New York Times bestselling author visits students
NEHS hosts Beth Revis to share her publishing process
Anika Roy, JagWire editor-in-chief
January 19, 2018
New York Times bestselling author Beth Revis visited Mill Valley after school on Thursday, Jan. 18 from North Carolina to share her publishing journey with various students and faculty. Revis has multiple published books for young adults, including "A World Without You" and most recently the backstory of Star Wars character Jyn Erso entitled "Rebel Rising." The event was hosted by NEHS and the original idea was sparked by junior Elizabeth Joseph.
Joseph is on the editorial committee of the Johnson County Library Teen Literary Magazine and, in contact with Johnson County teen librarian Kate McNair, was able to express interest in a visit from Revis.
"Kate sent me an email that said 'we have this person coming, her name is Beth Revis and here's the little blurb about her,' and since she was already coming [to Johnson County] it was a good opportunity," Joseph said. "I coordinated things between [NEHS sponsor Page Anderson] and Kate and they coordinated the rest."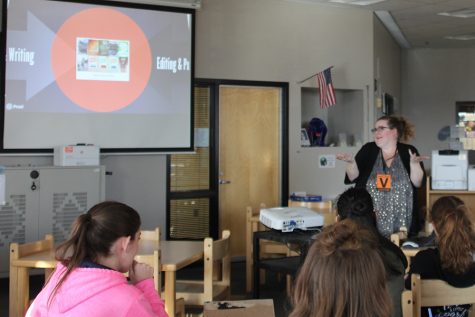 Anderson jumped on the opportunity to host Revis because of the potential benefits it would bring students and to emphasize what NEHS is all about.
"I think it's cool for the students to be exposed to someone who has written on a national level and has been recognized on a national level," Anderson said. "That's kind of what NEHS does. It highlights English, reading and writing, and so it's cool to have someone on a national scale come in and present to us."
Anderson herself is an aspiring author and was anxious to hear the pieces of advice Revis would give.
"I was really excited to hear her publishing process," Anderson said. "I'm actually interested in writing a book myself, and I have no idea where to start."
Along with hosting various workshops, classes and writers retreats, Revis visits schools across the nation "every other month or so" and enjoys reaching out to excited young people.
"Kids still have hope and they're very enthusiastic to talk to," Revis said. "I often talk about how I'm a fangirl, and I like fangirling because it's when you unabashedly love something. It's always a good thing, and I'm able see that most often in teens."
A self-proclaimed excited teen, Joseph took away valuable information and tips from Revis that was different than what she's heard from other events for writers in which she's attended.
"I have gone to a couple of the Johnson County Library workshops and writer outreach things, and so I've seen from different angles what it's like to be an author," Joseph said. "But I got a new angle into what being an author entails … and I learned new stuff along the way."
Speaking and writing frequently to writers hoping to be published one day, Revis' favorite advice to give, which she gave on Wednesday, is to practice often and embark on new adventures.
"I typically say that when you have the chance to practice writing, you should always practice," Revis said. "But, beyond practice, you need to go out and have new adventures. The more adventures that you have and the more people you meet, the better off you'll be, both as a writer and as a person."
(Visited 18 times, 1 visits today)