New Lenexa City Center offers variety of activities
JagWire reporters review features of newly opened Lenexa City Center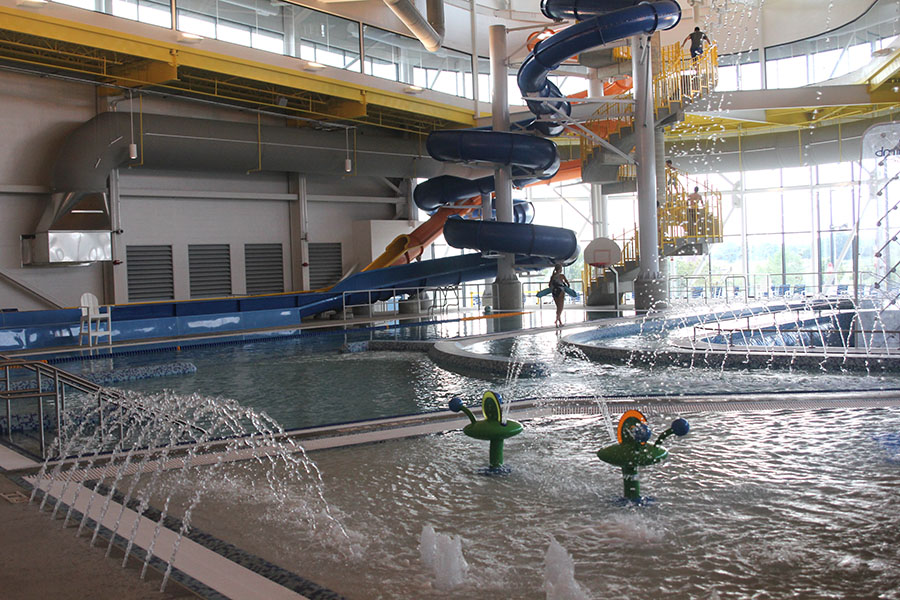 Public Market:
In the center of the city square lies a large, open building called the Public Market, featuring many trendy places to eat and a Kansas City themed store. The open layout allows visitors to be immersed in all the building has to offer while still allowing them breathing room. However, due to the construction not being totally finished, the walls were bare and if the market's design had to be summed up in one word, it would be bland.
Even though the restaurants offered on the main level, including Topp'd Pizza, Foo's Frozen Custard and The Roasterie cafe, are popular eateries, they are still unique because they aren't your typical nation-wide chains. What makes the Public Market stand out even more is the upstairs, which features a standard kitchen used to showcase a variety of pop-up restaurants. For example, a tamale pop-up shop will be featured every Tuesday in September. And if none of these options appeal to you, four more restaurants will be opening within the next few months. This includes Chewology, Mad Man's KC BBQ, Red Kitchen Tamales and Serene's bakery. The Public Market may not be a go-to spot for your Instagram post, but it is a nice location to have lunch or study at if visitors are looking to support a local business.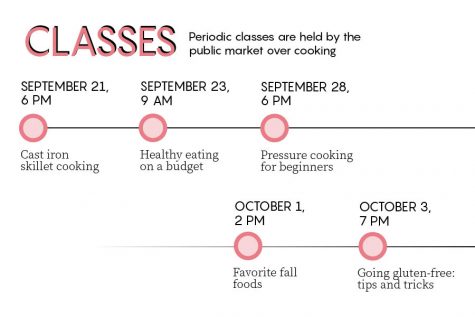 Entertainment:
The main floor of the Public Market is hard to beat in terms of its culinary experience, however, the second floor takes the award for entertainment features. The aforementioned second floor kitchen is also home to cooking classes that range from hands-on cooking to specific technique lessons. Anyone is welcome to participate in classes, and prices range from free to $25 to $39 per person.
Another feature is the art gallery which features different art styles, most for sale around or less than $200. There are lots of Kansas themed pieces, so if you're looking to support local artists, this is a good place to shop. In 2019, the city square will also be home to a new library as well as an outdoor farmers market, which is slated to be ready in early 2018.
Rec center:
Across the way from the public market is the Lenexa Rec Center, a 100,000 square foot state-of-the-art facility that in addition to basic gym equipment, offers two full-court gyms, an indoor pool with a lazy river and slide, a walking track and a Kids Zone. The facility is modern, clean and appeals to people of all ages and interests. Its main competitor, LifeTime Fitness, may offer more luxuries like a spa and cafe, but the Rec Center has higher quality facilities and the advantage of being brand new, along with it being in walking distance to everything that the Public Market has to offer. The employees are kind and will point you in the direction of where you need to go, but without their help, it is easy to get lost due to how intricately everything is wrapped around each other. A few more signs would help. The membership fee may be a bit more pricey than say Planet Fitness, but it's significantly less expensive than LifeTime. Another great thing about the Lenexa Rec Center is that membership can be dropped at the end of each month- a feature most gyms don't offer to their members. The Rec center is an easy-going and relaxing atmosphere for gym-goers of all paces to either work out in or relax in the lazy river.
(Visited 58 times, 1 visits today)