New Kansas bill could change concealed carry handgun laws in colleges and hospitals
In July of 2017, students and staff members of colleges and campuses will be allowed to carry concealed handguns on campuses
March 7, 2017
As students prepare to attend college after high school, many must now factor in a new concern: whether or not their university will allow concealed carry handguns on campus. For students that plan on attending a Kansas college, this concern may be especially heightened.
The Personal and Family Protection Act, which was passed by the Kansas legislature in 2013, ultimately enables people to bring concealed carry handguns into public buildings and spaces. Public universities, hospitals and campuses are currently exempt from the Personal and Family Protection Act until July 2017, in which these areas will be forced to comply with the standing law and also allow concealed carry handguns on site.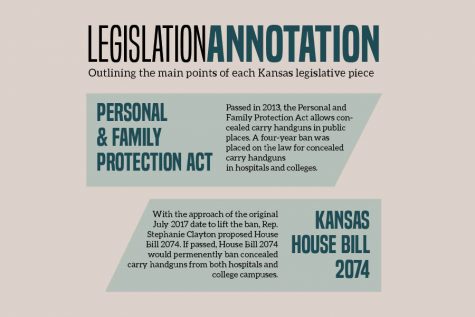 However, a new bill, House Bill 2074, has been introduced into legislature by Rep. Stephanie Clayton, a Republican from Overland Park, that will permanently exempt campuses and hospitals from being forced to obey the standing law.
The purpose of the Personal and Family Protection Act, according to lawmakers, is to increase security within public spaces by providing protection for students and staff members.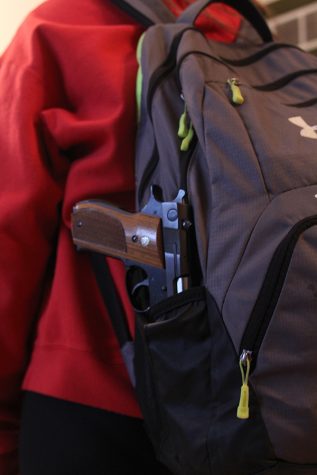 Kansas universities will also have to spend money to provide security screenings at major student events and venues, as guns will not be allowed in those areas, according to the law.  Student resource officer Mo Loridon said that some schools may not be fiscally able to provide extra measures for all facilities.
"[Some schools] can't afford to put metal detectors up, so it changes security," Loridon said. "Again, it's one of those things where you have to consider that every building you go into and everything you go to that somebody is going to have a gun. It's not necessarily a bad thing, but it changes security. You have to change the way you think."
University of Kansas Director of News and Media Relations Erinn Barcomb-Peterson said that KU will be implementing a new weapons policy in compliance with the law. According to the policy, which aligns with that of other Kansas colleges, the concealed carry of handguns will be allowed on all areas of campus owned or leased by the University except in certain circumstances.
"The exceptions to concealed carry are buildings and public areas of buildings for which adequate security measures are provided and specified restricted access areas of a building," Barcomb-Peterson said via email.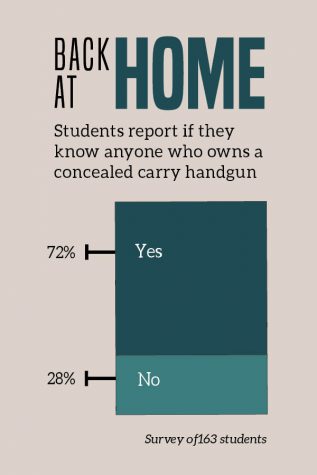 The Personal and Family Protection Act only allows those over the age of 21 to carry a concealed carry handgun and, according to Barcomb-Peterson, almost 60 percent of KU students are under that age requirement.
2015 Mill Valley graduate Clayton Kistner, who is currently a sophomore at Kansas State University, said that the enforcement of the law on college campuses will have an ultimately negative effect for both students and staff members.
"The presence of concealed [carry handguns] on campus instills an environment of fear in communities that are designed around peaceful, civil discourse," Kistner said via email. "The proposition that concealed [carry handguns] in the classrooms of public universities will create safer environments for students and faculty is not only foolish, but is not supported by a majority of the people whom it will affect."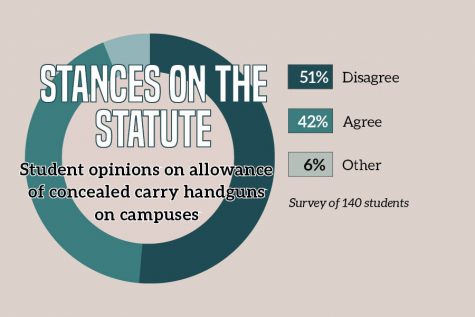 Some seniors planning to attend college in-state next year are not worried about the new law, but feel as if it will increase safety within universities. Among these is senior Josh Winscott, who said that if proper training was conducted, he would feel comfortable on a campus where students and staff could carry concealed handguns.
"I think it's OK for [students and staff] to be able to carry that and I think it's a good idea because it would maintain order," Winscott said. "But at the same time, I do think it's important that they do have background on guns and do have some kind of training."
Sophomore Griffin Allen agrees, and also said that the law would benefit students such as himself that wish to carry a concealed handgun on campus in order to increase personal safety.
"I think [the Personal and Family Protection Act is] great because people can get easy access to firearms," Allen said. "I would feel a lot safer if I had teachers and students armed at my school."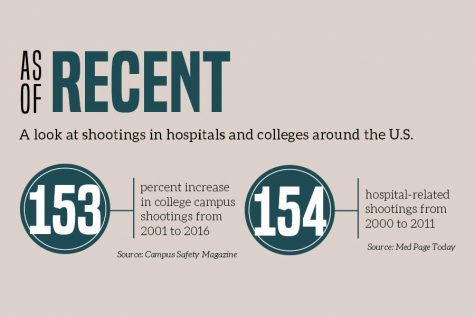 On the other hand, freshman Abbie Morgan said she would feel insecure on a campus where concealed weapons could be carried by her peers.
"I think that if I was on a campus it would definitely make me feel unsafe knowing that someone could have a gun and I would have no idea," Morgan said. "They could be sitting next to me in class and have a gun; that's scary."
Kistner thinks that high school students should pay attention the law because of the substantial effect it could have when attending college. 
"Though not every high school student attends an in-state college, many will and those planning to stay in Kansas should be paying special attention the way Topeka is treating our higher education system," Kistner said. "[The] insistence on allowing concealed carry on campus and [the] continued refusal to invest funds into public education is threatening higher education in the state of Kansas."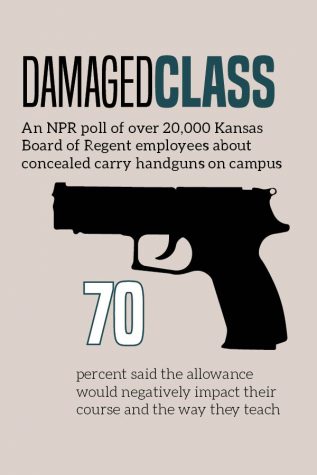 Winscott, however, said that he doesn't think the potential future implementation of the Personal and Family Protection Act will come to be an issue on Kansas campuses.
"At the end of the day I think the law is designed to increase safety and, if everyone has proper training, I don't see there being a problem," Winscott said.
While Loridon agrees that people should have the right to carry a concealed handgun, he also acknowledges problems that could arise if the law is officially implemented in July.
"I believe that if someone wants to carry a weapon to protect themselves, they have the right to do so based on the Constitution," Loridon said. "What scares me is the fact that now anybody could carry a gun. Without training, without knowledge of the gun, without understanding the ramifications of using a gun.  Police officers are trained everyday all time what happens if you use a gun to shoot a person. Normal people aren't, so they don't understand what it is to take someone's life."
(Visited 56 times, 2 visits today)