NEHS hosts its first slam poetry night
Students read their favorite poems or pieces they wrote
NEHS hosted its first slam poetry night on Wednesday, April 18 inside of NEHS sponsor Page Anderson's room. There, students gathered around in the dim room to enjoy the snacks and beverages provided by NEHS members and listen to each other read either their favorite poems or pieces they've written.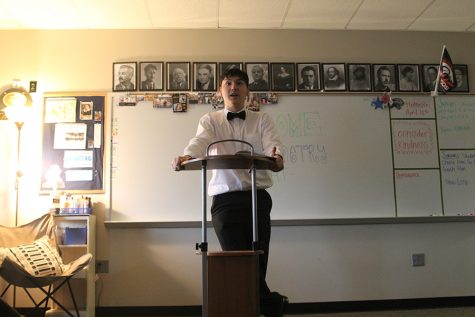 Of the eleven students who participated, there was an array of topics. The slam poetry night covered a wide variety from sophomore Annie Bogart performing an original poem about cheese to senior Lauryn Hurley reading her favorite Shakespeare sonnet.
Junior Madelyn Lehn wrote and shared a poem titled "Pizza Rolls" and believes its depth goes beyond the title. In the poem, Lehn describes in detail the process of making and waiting for pizza rolls.
"It speaks to more than just about pizza rolls, it really speaks to the soul and it's a coming-of-age piece," Lehn said. "It also mentions [the song] 'All Star' by Smashmouth and [Olympic athlete] Usain Bolt."
According to senior Gavin Overbeck, the slam poetry night was the perfect place to open up.
"[The poem I read] was a poem I wrote and it was about letting down the boys on Fortnite and apologizing to them," Overbeck said. "My favorite part of the night was the environment because it was really soothing and it really let people put themselves out there."
Although he originally attended to receive extra credit, Overbeck enjoyed the night.
"[Anderson] and I made a deal to have an extra credit opportunity and I needed to get my grade up," Overbeck said. "But, I had fun listening to poems too."
Lehn didn't come for the same reasons as Overbeck, but enjoyed the event because of the company and the opportunity to share about herself.
"My love of [Anderson] brought me here and I didn't come to receive extra credit, but it was an added bonus," Lehn said. "I also really had some angst I needed to get off my chest, so writing a poem, especially about pizza rolls, freed me."
(Visited 112 times, 1 visits today)