MV Update: Sept. 10
Homecoming Week details announced; fall musical cast list announced; JagWire makes school history; National Merit semifinalists announced
Adri Talavera, JagWire opinions editor/business manager
September 9, 2015
Homecoming week events and dates:
Parade and pep rally: Wednesday, Sept. 16, at 6:30 p.m.

Pep assembly: Friday, Sept. 18, at 2 p.m.

Football game vs. Derby: Friday, Sept. 18, at 7 p.m.

Dance: Saturday, Sept. 19, from 8-11 p.m. in the commons and gym

All attendees must arrive by 9 p.m. to be allowed in the dance

Dance tickets are $10 and will be available Monday, Sept. 14, through Friday, Sept. 18. Tickets will be $15 at the door
Important dates regarding Homecoming week activities
Permission slips to participate in the Homecoming parade will be due to the office by Monday, Sept. 14, by 3:30 p.m.
Outside guest passes for the dance are due to the office by Wednesday, Sept. 16. No outside guests will be permitted after this time
"Welcome to ValleyWood" Homecoming week spirit day themes are as followed:
Monday, Sept. 14: Marvel Monday, dress as your favorite superhero.

Tuesday, Sept. 15: Technicolor Tuesday, wear your class colors — freshmen wear yellow, sophomores wear green, juniors wear red and seniors wear blue

Wednesday, Sept. 16: Back to the Future, go back in time and dress like you're from a certain decade

Thursday, Sept. 17: Hall of Fame Day, wear your favorite team's jersey, T-shirt or hat

Friday, Sept. 18: Remember the Jaguars, wear school colors — blue, silver or white
Spirit day participation will count towards class cup points.
Homecoming court nominees announced
The following seniors have been announced as 2015-16 Homecoming king and queen candidates:
Catie Kaifes
Megan Feuerborn
Amber Akin
Katie Burke
Lindsey Hamner
Abbie Hughes
Nick Vitale
Noah Callahan
Chase Midyett
Tyler Shurley
Derek Meeks
Cooper Hutteger
Students will vote for king and queen on Thursday, Sept. 17, during seminar. Coronation will take place during halftime of the Homecoming football game.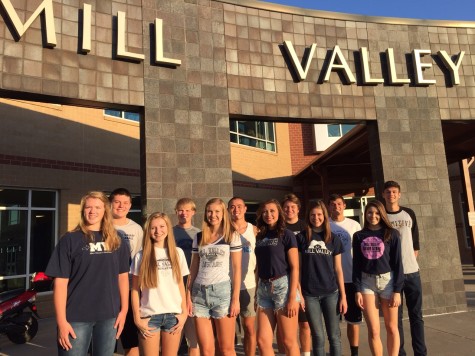 Fall musical cast announced
Director Jon Copeland announced the cast of the fall musical, "Oklahoma!"
Curly: senior Andy Sloop (Farmer cast) and sophomore Simon Stewart (Cowman cast)

Laurey: sophomore McKenna Harvey (Farmer cast) and senior Gabby Saunders (Cowman cast)

Jud: senior Austin Mackey (Farmer cast) and senior Carson Vitt (Cowman cast)

Aunt Eller: senior Sarah Myers (Farmer cast) and junior Lisa Earlenbaugh (Cowman cast)

Ado Annie: junior Natalie Carrera (Farmer cast) and junior Siera Thompson (Cowman cast)

Will: senior Allen Weinert (Farmer cast) and senior Aidan Quinn (Cowman cast)

Andrew: junior Lance Marx (Farmer cast) and senior Nick Booth (Cowman cast)

Ali: junior Jason Chen (Farmer cast) and senior Hawkeye Mitchell (Cowman cast)

Gertie: senior Megan Feuerborn (Farmer cast) and senior Camille Gatapia (Cowman cast)
A full cast list can be found on the drama department website.
To allow as many students to participate as possible, roles are double casted. Each cast will consist of the same parts played by different actors. The two casts, Farmer cast and Cowman cast, will perform on different dates. Farmer cast will perform Saturday, Nov. 7, Wednesday, Nov. 10 and Saturday, Nov. 14. Cowman cast will perform Sunday, Nov. 8, Thursday, Nov. 11 and Sunday, Nov. 15.
There will be an informational parent meeting on Monday, Sept. 14, at 6:30 p.m. in the theater.
JagWire staff earns esteemed recognition
The National Scholastic Press Association announced the 15th volume of the JagWire as one of the finalists for the Newspaper Pacemaker Award for the first time in school history. The JagWire is one of 16 publications in the 16 or fewer page tabloid category up for this national award.
Winners will be announced at the Journalism Educators of America/NSPA Fall National High School Journalism Convention in Orlando, Florida, from Nov. 12-15.
National Merit semifinalists announced
On Wednesday, Sept. 9, the National Merit Scholarship Corporation announced the semifinalists in the 61st annual National Merit scholarship program. Seniors Justin Curto and Allison Kubiak are two of over 16,000 seniors who have earned the opportunity to compete for 7,400 scholarships worth more than $32 million.
(Visited 89 times, 1 visits today)
About the Contributor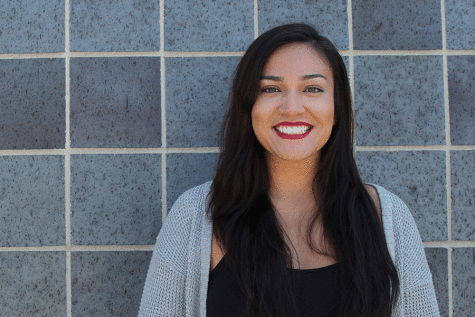 Adri Talavera, JagWire opinions editor/business manager
Senior Adri Talavera is entering her third year on the JagWire staff, this year as the opinions editor and co-business manager.