MV Outfitters club members come together for a bonfire in the park
The annual group event, held at Shawnee Mission Park, included s'mores and hammocking
Members of MV Outfitters gathered at Shelter 2 on Sunday, Oct. 28 for their annual outdoor meeting.
According to senior Madelyn Lehn, the club comes together for a bonfire in the park around this time of the year.\
"Last year we [met] for a Halloween themed bonfire and this year it is more fall-like," Lehn said. "It is a low-maintenance, fun way for everyone to get involved and get outside to have a good time."
This event gives the members, new and returning, the opportunity to converse and introduce themselves, according to freshman Lauren Butler.
"Today's event [at SMP] served as a mixer so we could all get to know each other," Butler said. "It's a great opportunity to meet new people, especially as a freshman, and experience new things."
MV Outfitters club members enjoy being in the company of each other and nature, according to Lehn.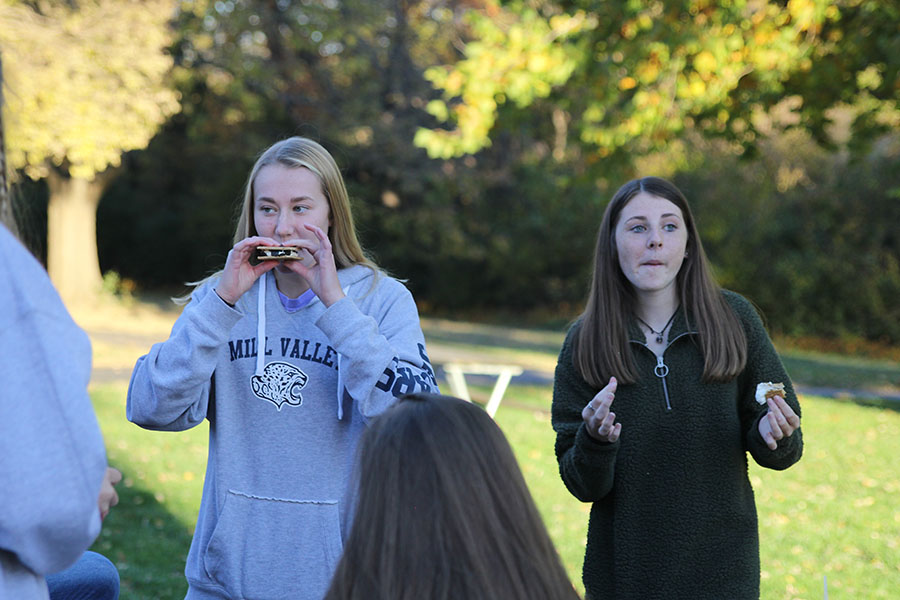 "It is super fun to sit around the fire and hang out with everyone," Lehn said. "I enjoy being surrounded by an awesome group of girls while we learn about nature."
During group gatherings, the club does a variety of hands-on activities such as painting rocks, making trail mix and building bonfires.
"My favorite part of our outdoor gatherings would have to be hammocking," Butler said. "It is super relaxing and is a great time to catch up with the other [members of MV Outfitters]."
The presidents of the club, Lehn and senior Hannah Barnes, like to see all of their ideas leaving an impact on not only their members but also nature.
"I enjoy the planning process and seeing the way everything comes together," Lehn said. "When we finally get to see [our plans] in action and everyone enjoying [the activities], it is super rewarding."
(Visited 102 times, 1 visits today)