Multiple married couples share experiences working together at Mill Valley
In addition to having professional relationships, the Shellys and the Riss's are also married couples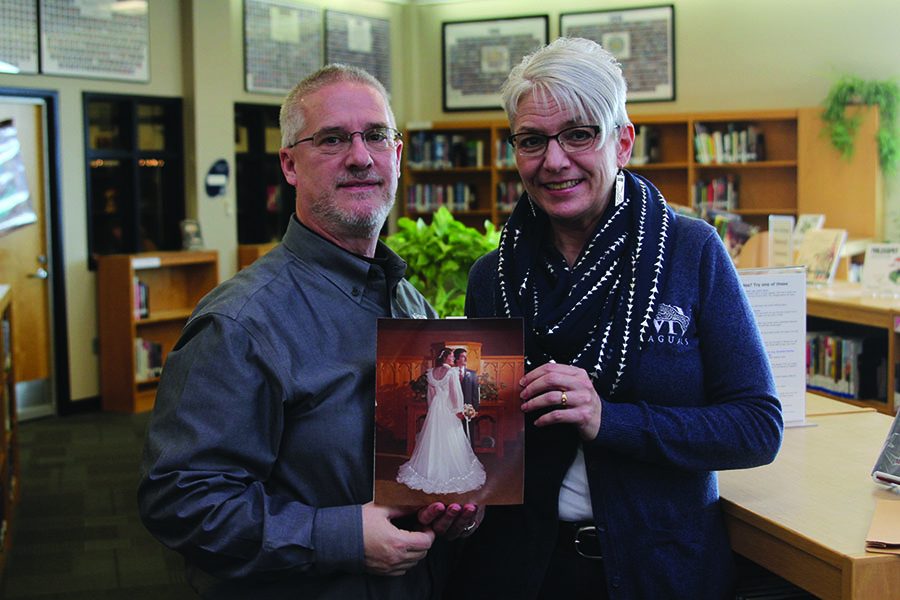 Coming to school, gifted services facilitator Carmen Shelly and media center specialist Andy Shelly walk through the doors together. While they go their separate ways, they both know they're just a door apart.
Carmen and Andy first met at Bethel College in 1981, where he worked in admissions and she was a student. Shortly after, they started dating in 1982 and married in July 1983. But they're not the only couple at Mill Valley.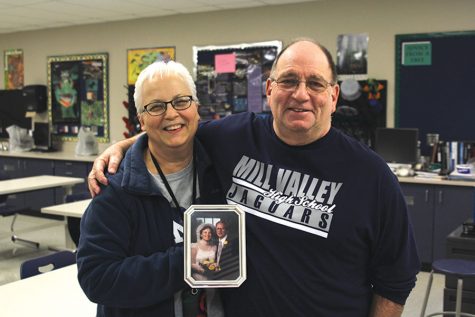 Science teacher Donna Riss and substitute teacher Mike Riss first met in 1984 while working as biology and English teachers respectively at Washington High School. They married three years later, in June of 1987 and continued working together at Washington until 1988, when Donna resigned to stay at home with their kids.
For the Shellys, Andy finds working in the same place as Carmen has improved their day-to-day communication.
"It's been easier to communicate with each other about our work day since we know the same colleagues, students and staff," Andy said via email. "When our kids were growing up it also allowed us to focus on their days when we'd arrive home from work."
Additionally, Carmen enjoys the extra time they spend together in the car ride to and from school. Not only has she noticed how having the same workplace benefited daily conversation, Carmen appreciates their common work schedule.
"[Working at the same place as my husband] did promote communication among family members because we can't just go our own way or leave the house or job at different times," Carmen said via email. "Having the same spring break, the same days off for winter break, the same snow days … all of that helps when life is busy."
On the other hand, because of differing teaching schedules, the Riss's don't always carpool to and from school. However, Donna believes she has a better understanding of how her husband's day might have gone and has a better connection with him.
"The benefit of being married to a teacher [and] being a teacher is that you have a good understanding of what their job is like," Donna said. "Even if we weren't in the same building we would have that understanding."
Mike credits his subbing position to his wife.
"She actually talked me into subbing," Mike said. "[Donna] networked me out in this place so that I know 90 percent of the faculty here."
Even though they worked on different floors, Donna said she "[owes their] marriage to Washington High School." Even at Mill Valley, they hardly see each other during the day.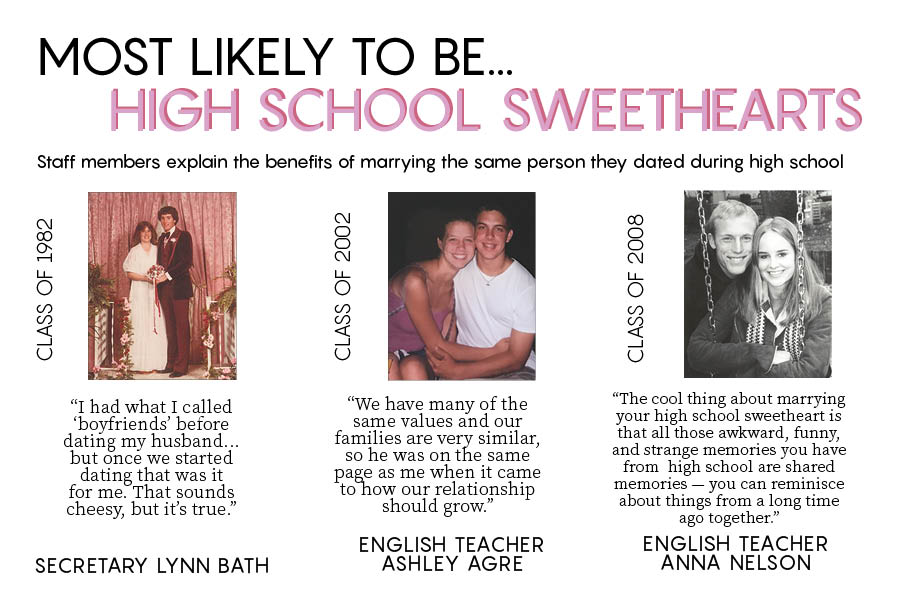 "If Mike is subbing for [science teacher Betsy] Meeks or [English teacher Ashley] Agre, I'll see him, but not a lot," Donna said. "[I see him in] Meeks more because if I hear him make mistakes I'll go in and correct him."
However much she enjoys working in the same place as her husband, Carmen feels mundane conversation outside of work has dwindled.
"Sometimes we don't have anything to talk about at the dinner table now that our children are out of the house," Carmen said. "We know what happened in our day at work."
Even so, after spending most of his career working with his wife, Andy would not have wanted it any other way.
"We've worked together for such a long time it's difficult to imagine what it would have been like not to have done so," Andy said. "I think it's really been great to work in the same place as my wife."
(Visited 93 times, 1 visits today)
About the Contributors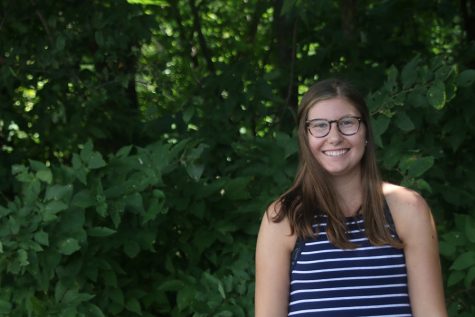 Katya Gillig, Mill Valley News editor-in-chief
This is senior Katya Gillig's third year on the JagWire staff. This year she is one of the Mill Valley News editors-in-chief alongside Elizabeth Joseph and Marah Shulda. Katya is involved in MV Outfitters and Youth for Refugees. Outside of school, she enjoys traveling and spending time with her friends and family.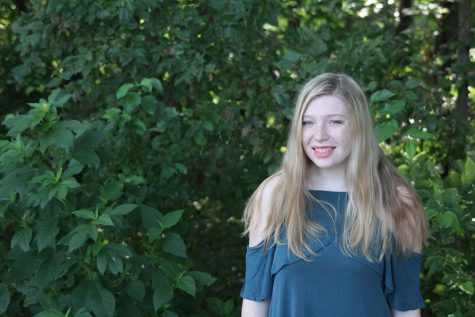 Tricia Drumm, Mill Valley News editor-in-chief
Senior Tricia Drumm is undertaking her third and final year on the JagWire staff and will be one of the three magnificent Mill Valley News editors-in-chief. When she isn't in the journalism room, she's singing alto in Jag Chorale. In her free time, Tricia loves to read, write, prance around in her heels, hang out with her dogs and friends, obsess over "Criminal Minds" and sleep — a lot.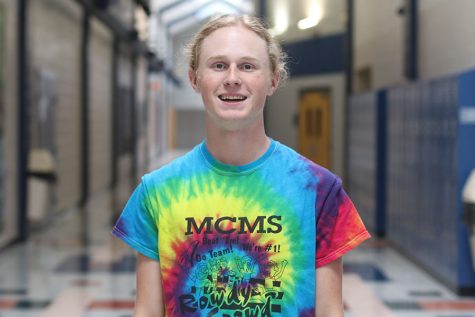 Andrew Tow, JagWire photo editor
This is senior Andrew Tow's third year on staff. He is proud to say that he upholds the position of photo editor for the second year in a row. Outside of the J-Room, Andrew is involved in band. Whenever he gets time away from school, he is either serving at his church or working.