Mill Valley News wins national honors at journalism convention
The Mill Valley News staff attended the first in-person national convention in almost three years in California Wednesday, April 6 to Saturday, April 9
After two year and a half years of waiting, the journalism department once again returned to the JEA/NSPA national high school journalism convention, the first in-person event since COVID. While at the convention in Los Angeles, the staff was one of 20 high schools to win the NSPA Online Pacemaker award and placed in the convention's Best of Show contest. 
The Pacemaker is the highest honor in high school journalism. Mill Valley News earned one of 48 Online Pacemaker finalists honor back in March. The processes involves judges carefully studying approximately 140 sites submitted from 31 states and three countries. This is Mill Valley's fifth Online Pacemaker Award in addition to two finalist honors. Editors of this year's website are juniors Gabby Delpleash, Avery Gathright, and Ally Sul and senior Damara Stevens. 
Also at the convention, two Mill Valley publications earned awards in the convention Best of Show contest. Mill Valley News placed third in the Online News Website category (schools 1,500 or less) and the JagWire newspaper placed 7th in the Newsmagazine category (schools 1,500 or less). Senior Quinn Franken is the editor of the JagWire.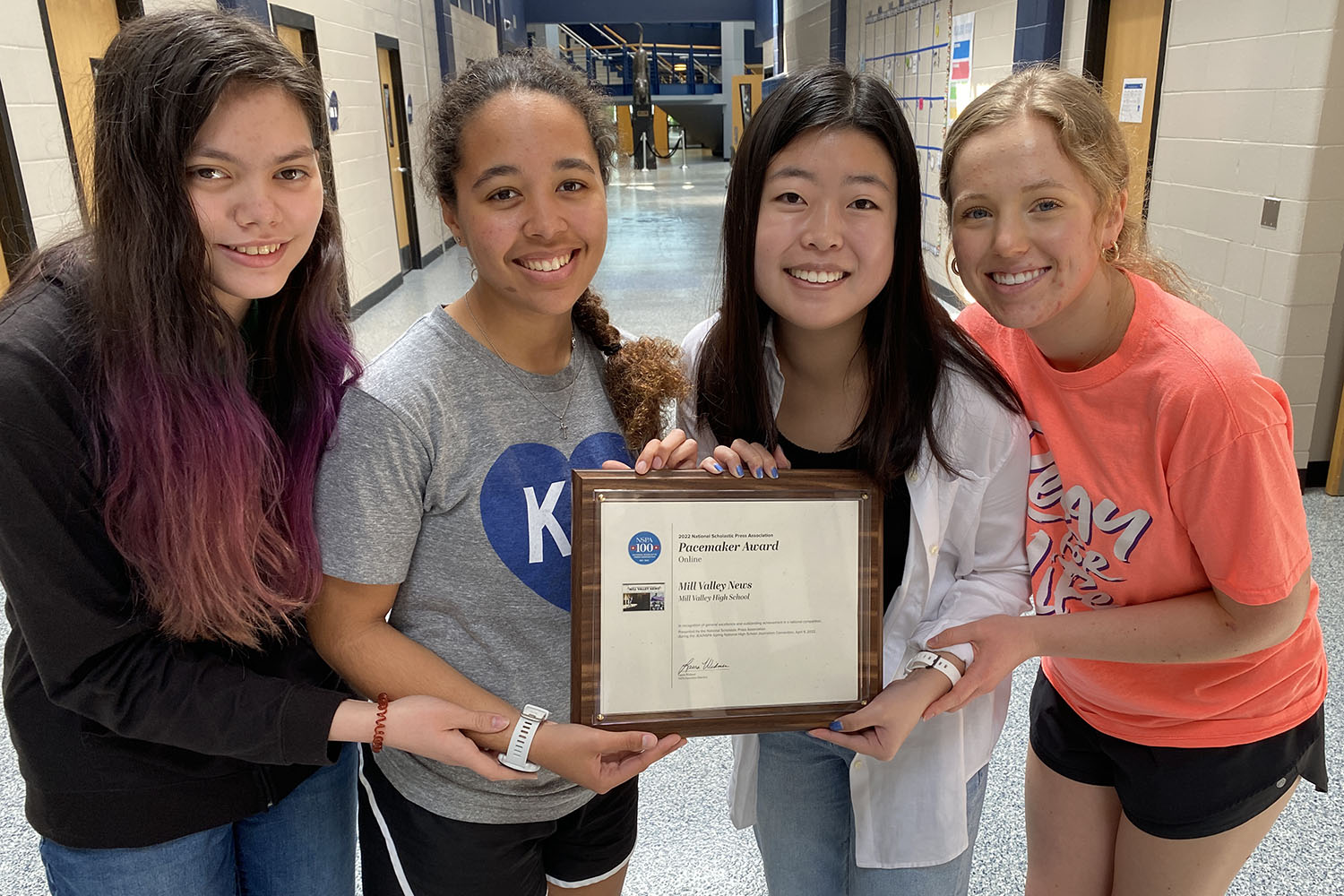 Students from both the JAG yearbook and JagWire newspaper staffs flew out to LA Wednesday, April 6. Journalism adviser Kathy Habiger shares her experience in California. 
"We did a bit of sightseeing, which is always a part of going to the conventions," Habiger said. "We also had some learning time at the convention. Meeting new people from around the country is also really fun and it's just special to see old friends from previous conventions."
Going on this trip, Habiger also gets to bond with her newspaper and yearbook staff. The staff also gets to learn more about the people they work with. 
"I really get to know my students when we go on this trip. I get to know all their quirks," Habiger said. "I get to learn things about the students that I would not usually get to learn."
For the first time, JAG yearbook editor-in-chief, senior Elise Canning, went on the journalism trip. Canning got to sightsee and learn during the convention. 
"My favorite part of the trip was getting to meet all the other journalism kids," Canning said. "All the people are really cool and interesting, everyone is so outgoing. It was also so cool to watch the sunset on the pier, and get to learn from other journalism students." 
The staff got to learn skills to improve their work through the different keynote speakers at the convention. Canning speaks on what she learned on the trip. 
"One speaker taught us about umbrella reporting," Canning said. "This type of report is covering a multitude of things all on one. It was also cool listening to what other journalism staff do with their yearbooks and newspapers." 
Habiger explains that there are many different opportunities to learn at the convention, even as an advisor. The attendees learn from each other.
"I learned about a couple new cameras I want to buy. It's always valuable just to hear what the students say," Habiger said. "I think it is super important for the students to learn from other students, even I learn from the students at the convention."
(Visited 210 times, 1 visits today)