Messenger Coffee: is it worth the hype?
Located downtown, 25 minutes away from Mill Valley Messenger Coffee Company is a three-level coffeehouse with pastries, coffee, and rooftop seating
Aesthetic
Messenger Coffee is a trendy coffeehouse with two floors and a rooftop available for seating. It is very open with large windows covering the walls and an overall modern and chill environment. Messenger Coffee made me want to sit down and grind out my homework.
The coffeehouse was slightly intimidating compared to the small cafes I am used to because of the size, and it was a Saturday afternoon so they were especially busy. However, the baristas were all very welcoming.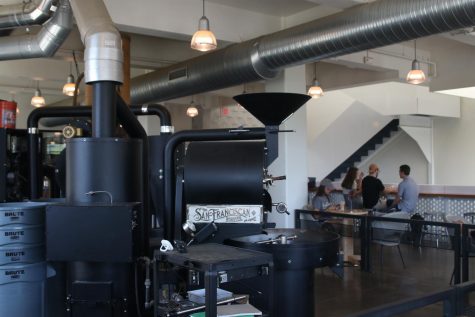 The first floor was minimalistic with the pastries behind the counter, small tables by the windows and plants scattered all around. Off to the right was the bakery where you can watch them make their bread and other pastries.
I ordered and waited off to the side for them to prepare it. The menu was small but had a lot of options for coffee, small meals, and pastries. However, it was lacking options for non-coffee drinkers such as more diverse tea or smoothies options. To my disappointment, Messenger coffee did not have hazelnut flavor to add, but the barista recommended almond. My almond latte and peach cobbler croissant were out in roughly ten minutes which is longer than I would've liked but still within a reasonable timeframe for how busy it was.
Once I got my items, I went to the second floor to enjoy them. The many stairs going up were slightly nerve-wracking to maneuver while holding a hot coffee and plate, but I managed. 
Two of the walls were opened up with floor to ceiling windows that overlooked the busy street, which I loved because I could watch the hustle and bustle of the city as I worked. Next to the tables was the coffee roaster. It was really satisfying to watch the coffee come out of the roster to cool. The roof had a great view of downtown and very good sunlight. There were a lot of tables and places to sit and talk or work.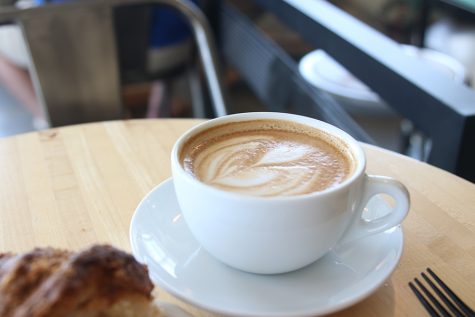 Food 
I ordered a medium latte with almond flavor, a peach cobbler croissant, and a blueberry tart. 
The latte was $3.95, which is less expensive than a medium latte at our local coffee shop Country Club Cafe. My croissant was $4.75, and the tart was $5.00. This left me with a total of $16.18. This was one of my more expensive coffee shop trips, but the pastries looked fancy and sounded delicious, so I gladly paid the price.  
I was very excited to go to Messenger Coffee as I had driven around 30 minutes due to traffic and been recommended this coffeehouse quite a few times. This is why I was slightly disappointed when my first sip of coffee was not as sweet as I would've wanted it, but not horrible. 
The croissant was very flakey on the outside but had a mushy texture in the center. The peach in the filling was tart and made the croissant soggy. I had higher expectations for it.
The blueberry tart looked beautiful and was very photogenic. However, it did not taste as good as it looked. It was evident I paid for the appearance, not taste. The pie crust was dry, and the blueberry filling tasted more like acai than blueberry. I wanted a sweeter and more blueberry taste than the açaí.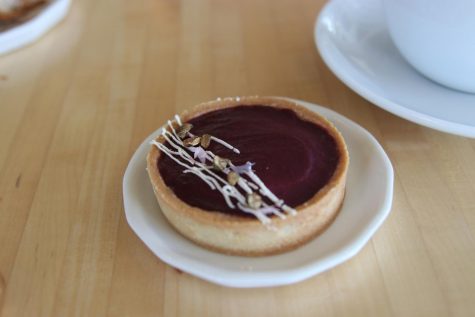 Overall, Messenger Coffee is an aesthetically pleasing coffeehouse great for pictures, but the mediocre food was overpriced. I would not go out of my way to go again unless I wanted cute pictures in a coffee shop.
For coffee shop drinks and food, I would rather choose Country Club Cafe or Black Dog Coffeehouse. They are closer with better food for the price.
(Visited 609 times, 1 visits today)