Meet the school's new principal, Dr. Gail Holder
Holder shares her journey to becoming an administrator and her plans for the school

Mill Valley's new principal has been striving for success since her own high school days. Dr. Gail Holder graduated from Olathe South High School as a volleyball player, swimmer and dancer – all while preparing for her performance at the 1984 Olympic Trials in synchronized swimming. She hasn't stopped working since. 
"Every day when I wake up, I literally say, 'I will be better today than I was yesterday, but I won't be as good as I'll be tomorrow,'" Holder said. "That is my wake-up motto to myself."
While Holder didn't originally plan on becoming a teacher, her high school experience and role models played a pivotal role in her personal development, especially their support once Holder realized that her dream school, the University of Arizona, was a financial impossibility.
"I had some incredible coaches and teachers who really were patient with me and sat down and talked with me and helped me navigate through some of those things," Holder said.
Holder pursued her associate's degree and dance at Kilgore College in Texas, and she went on to earn her bachelor's degree in English education and master's degree in curriculum and instruction at the University of Kansas. In 1990, she landed her first teaching job in Coffeyville, Kansas as an English teacher. A year later, she took a job at Shawnee Mission West where she taught dance.
She returned to the Olathe school district in 1992 as an English teacher and dance team coordinator at Olathe South. During this time, she earned her administration degree through Pittsburg State University in 2008 and saw her own daughter graduate from Olathe South. She took a job at the Olathe Public Schools district office in 2016 as the assistant director of teaching and learning.
In 2018, Holder realized she "missed being at a building, being with students and staff" and accepted a job at Olathe East as assistant principal.
Olathe East language arts teacher Karen Bourland-Kirk appreciates Holder's enthusiastic presence as an administrator.
"She constantly circulates throughout the halls, interacting with teachers and students and visits classrooms frequently," Bourland-Kirk said. "The other day, I heard a knock on the door and, through the glass, Dr. [Gail] Holder just waved and mouthed an enthusiastic 'hi' and went on her way."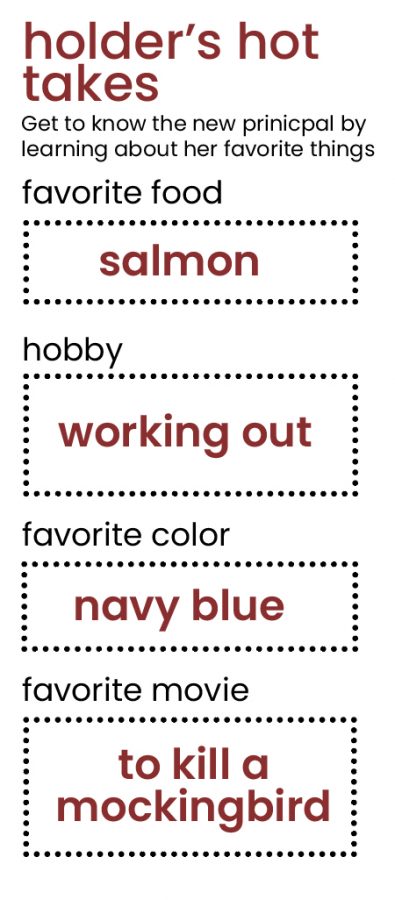 While she had made Olathe her home, Holder says she "wanted to start a new chapter in [her] educational journey," so she pursued the opening at Mill Valley. She will replace retiring Tobie Waldeck as the school's principal Wednesday, July 1. The transition will be made official when the Board of Education formally approves the hire on March 2. 
"Knowing what I know about Mill Valley High School and the students, staff and community that contribute to the overall excellence of this building, I could not think of a better place for my next educational experience," Holder said.
Holder's goal entering this new position, as she believes everyone's should be, is to push Mill Valley to be the "number one high school in Kansas." Her plan of action is to confer with everyone in the building, from administrators and students to custodians and cafeteria workers, to determine where the school can improve.  
"I'm going to spend a long time getting to know what Mill Valley already has in place … before I start saying, 'this is what I think we should do,'" Holder said. "That is a collaborative decision that happens after a lot of discussions and planning about how we take this amazing, great school that has so many accolades and make it a little bit better every single year."
Bourland-Kirk can affirm that Holder will put in the effort to fulfill the school's needs.
"If you bring something to her attention, she will quickly get to work trying to solve or seek a resolution; [she's] very action-oriented," Bourland-Kirk said. 
Additionally, Bourland-Kirk notes how Holder makes an effort to boost student and staff morale.
"She is personable with staff and students, asking you about other things, not always about school happenings," Bourland-Kirk said. "Her passion remains very evident whether that is bringing music to staff meetings, supplying us with snacks at parent-teacher conferences or having props at a [professional learning committee meeting]."
Holder thinks her job as principal is to ensure every student enjoys their four years. She hopes that her students find their high school experience, under her administration, to be positive and fulfilling.
"My role in [students'] experience is to make sure as best as I can that their teachers are taking care of, that their facility is taking care of, that they have all the resources they need," Holder said. "I would hope that they would be able to see the 20,000 foot view of what it is we've done and accomplished, and they're talking about their overall experience, that it has been joyful, it has been meaningful and has been relevant and they are ready for whatever comes next."
(Visited 1,643 times, 1 visits today)