Journalism earns 5A state championship title
This year marks the third straight state title and the 10th overall journalism state title in school history Saturday, May 7
Ally Sul, Mill Valley News editor-in-chief
May 13, 2022
After outscoring Kapaun Mt. Carmel High School 61 to 34 points overall, the journalism department brought home their third straight state title during the state contest celebration hosted at the University of Kansas Saturday, May 7. The department also had multiple individual state champions, with senior Vinny Bruno placing first in the video sports promo category and sophomore Julia Shumaker placing first in the digital illustration category.
Shumaker was also a member of one of the multimedia storytelling teams consisting of Shumaker, senior Taylor Doyle and juniors Avery Gathright and Gabby Delpleash where the team placed first, making them all individual state champions. Additionally, the second multimedia storytelling team consisting of seniors Avery Davis, Elise Canning, Damara Stevens and Ally Sul placed second. 
Gathright also placed in four different categories, making her the participant with the most points earned. Gathright described how she felt scoring the highest amount of points on the team.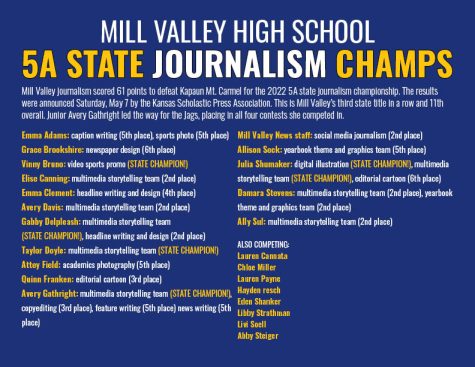 "Knowing that I won the most points for the teams is an amazing feeling, because it shows that I was able to really contribute to our winning overall," Gathright said. "However, we couldn't have won without the hard work of each and every member of the state team, and I am beyond thankful for them, the rest of our staff and of course journalism advisor Kathy Habiger." 
Senior Attey Field then expressed her feelings after Mill Valley was announced as the 5A state champion. 
"When I found out that we won state journalism again I was completely shocked because this was our third time winning it in a row and I was lucky enough to be a part of that all the years I was in yearbook," Field said. "Being announced as the winners was amazing because it feels great contributing to that win and saying I was a part of what helped us win that title."
On top of the announcement of state placements, the state contest celebration included different break out sessions, keynote speakers and a tour of KU's journalism school. Gathright explained what was included in the schedule. 
"The celebration also offered a couple of different 'break-out sessions' where we were able to go to different places and learn about various areas of journalism," Gathright said. "During the second session, we took a short tour of KU's J-school, their journalism school, which was really fun and informative as we got to see some of the technology and rooms used by journalism majors at the college." 
Overall, Field reflected on what state entry she was post proud of. 
"We had the topic of 'how students express themselves in the classroom' and had to capture that in a picture. For that category, I decided to capture senior Danny Talavera's Video Productions comedy film," Field said. "I was honestly most proud of my academic entry because  capturing their process of filming their movies was difficult and I feel like I really captured the essence of their film."
(Visited 177 times, 1 visits today)