Journalism department crowned 6A state champions
The school won its sixth state title in 10 years Saturday, May 2
Mill Valley student journalists captured the 6A state journalism title Saturday, May 2. The team scored 48 points, followed by Shawnee Mission East (38) and Blue Valley Northwest (32). It was Mill Valley's sixth journalism state title in 10 years.
The Kansas Scholastic Press Association's state journalism contest came with some adjustments due to the closure of schools in Kansas due to COVID-19. Instead of competing in writing categories on site at the University of Kansas, students submitted original entries online Saturday, April 18 that were then judged virtually by professionals and advisers across the country. Entries that qualified for state in design and photography categories at the regional contest in February were automatically entered and judged in the state contest. Results were revealed by KSPA via Twitter on May 2.
Junior Ben Wieland scored the most individual points (13) in the 5A/6A contest and earned 9 more points in team categories.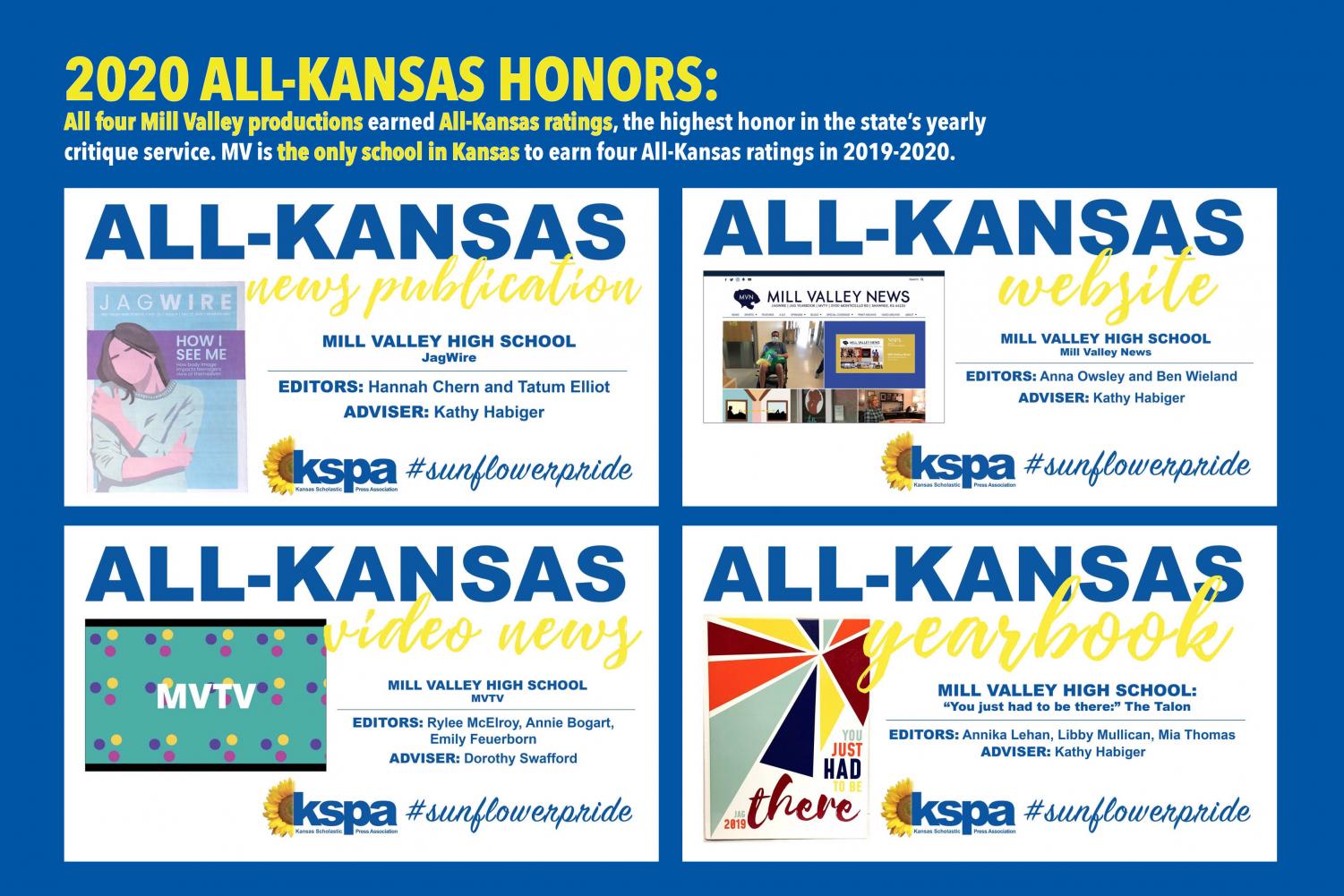 Also during the Twitter presentation, KSPA announced the winners of its All-Kansas award, the highest honor given in the state's critique service. Judges critiqued a total of 29 news publications, 12 news websites and four video news publications, and 19 of those publications were awarded with All-Kansas distinction. 2019 yearbooks were also honored. All four of Mill Valley's productions, MVTV, JagWire newsmagazine, Mill Valley News Online and 2019 JAG yearbook, earned All-Kansas rankings, the only school in the state to do so.
Advisers for Mill Valley journalism are Kathy Habiger and Dorothy Swafford.
STATE CHAMPIONS:
Tatum Elliott: newspaper design & infographics design
Avery Liby: online photo gallery
Ben Wieland: sports writing
Annie Bogart, Tatum Elliott, Anna Owsley & Ben Wieland: multimedia storytelling
2nd PLACE:
Abby White: online photo gallery
Abby White & Grace McLeod: yearbook theme design
Ben Wieland: film review
Sophie Lecuru: newspaper design
4th PLACE:
Anna Owsley & Ben Wieland: social media reporting
Hannah Chern: headline writing/design
Abby White: yearbook design
5th PLACE:
Ben Wieland: editorial writing
Also participating at state: Aiden Burke, Sammie Volkamer, Anna Rold, Livi Soell, Allison Gourd, Taylir Charest, Steven Curto & Andrew Tow
(Visited 179 times, 1 visits today)