JagWire staffers review Rudy's Tenampa Taqueria
The family-owned business opened its second Kansas City location in Lenexa on Saturday, Oct. 6
Sam Hanson, JagWire reporter/photographer
November 11, 2018
When Panzon's Mexican Restaurant closed in April of this year, it was announced Rudy's Tenampa Taqueria would be taking over the facility and opening their second Kansas City location at the corner of 87th St. and Lackman Rd.
Rudy's has multiple large seating areas, including tables, booths, high chairs and a outdoor patio area with various fire pits. Upon entering, they have a display of their signature sauces for people to see. The restaurant is known for their authentic specialty tacos, hence the name. Their menu also offers a wide range of authentic Mexican meals ranging from seafood to standard meats such as beef, chicken and pork. They have vegetarian options available as well. Rudy's also runs a frequently updated Facebook page, where they post updates about their restaurant.
When we went there, there was a minimal wait time and the servers were all very kind. I chose the "La Reyna" while Jonathan got the "Bistek Ala Mexicana."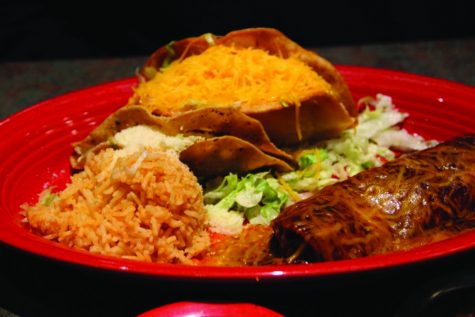 The "La Reyna" came with a beef taco, a chicken taco, an enchilada of your choosing and Rudy's signature rice. The ground beef taco was a beautiful golden brown color, and the beef was very flavorful. It was also smothered in Parmesan cheese, giving it a much sweeter taste. The chicken taco included very tender meat, and it was covered with lettuce and cheddar cheese. I chose the chicken enchilada, but the tortilla was a little hard to cut through, Besides that, the sweet taste of the enchilada sauce and the melted cheese on top definitely made up for it.
The "Bistek Ala Mexicana" included Rudy's signature rice and beans, along with chunks of steak that was sauteed with onions, tomatoes and jalapeños. There also were three tortillas served on the side so people can make soft tacos out of it if they choose. The steak was very tender and it had a smokey taste. Overall, it was a great blend of spicy, sweet and savory.
Rudy's Tenampa Taqueria is a very nice establishment, with a nicely decorated interior and great tasting, authentic Mexican food. The employees provided great service and the menu options are all fairly priced, so we both recommend you check them out and give some support to the underappreciated local restaurants.
(Visited 294 times, 1 visits today)