Relay for Life committee hosts second annual Bark for Life
The switch in location catered to the smaller size of the event
The second annual Bark for Life of Johnson and Wyandotte counties was hosted by Jaguar Nation's Relay for Life committee members Saturday, Oct. 12. The event raised $2,481 (as of Sunday, Oct. 13) towards the goal set for their Relay for Life event, which will take place this spring on Friday, Mar. 27. 
In comparison to last year's Bark for Life, co-chair of the event senior Abbie Morgan decided to centralize the event so it was easier to navigate. 
"We changed the location from Garrett Park to the field outside of Monticello Trails [Middle School,]" Morgan said. "We improved the games that we've done and we changed up how we set up [the event], and it just I think it looks a lot better, [feels] more cohesive and not as spread out as it was last year." 
Throughout the event, participants could enter different contests and activities with their dogs. Bark for Life co-chair Aaliyah Gonzalez enjoyed the community's participation. 
"My favorite part [of the event] was definitely getting to see all the dogs here and just having contests" said Gonzalez. "[It is] the best part because you get to see all the costumes that the dogs have on and it's really cute."
While enjoying the event, Morgan also observed the struggles of the event. 
"We definitely didn't have as easy of a time getting sponsors this year for some reason, and it was harder just because we didn't know the space out here already," said Morgan. "It was important to figure out where to put everything and just try to figure out how we can improve upon last year and build upon that and make it more interesting."
Despite the changes, sub-committee member sophomore Bret Weber enjoyed the main aspects of Bark for Life.
"I loved getting to see all of the dogs" Weber said. "This event is important because it helps go towards our final goal for [Relay for Life of Jaguar Nation]."
(Visited 225 times, 1 visits today)
About the Writer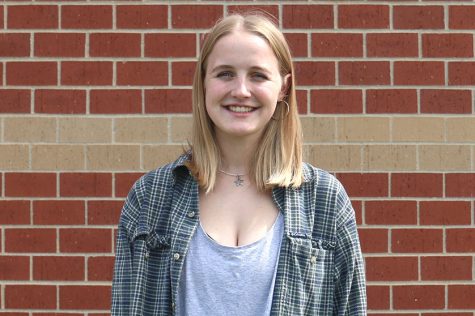 Molly Smith, JAG reporter/photographer
This is senior Molly Smith's third year on the JAG yearbook staff. This year she is taking on the position of editor-in-chief of the yearbook. At school, Molly can be found in the theater participating in plays or musicals or in the band room where she is a part of both the marching band and the jazz band. In addition, she works toward her service hour goal for the NHS. In her free time, Molly enjoys making playlists, painting and walking in creeks.