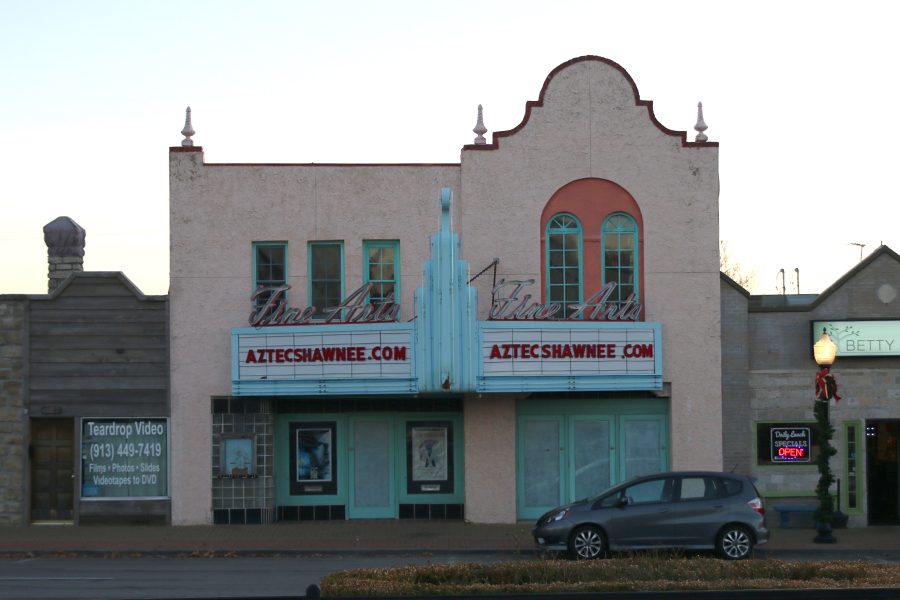 Historic Aztec Theatre will reopen its doors
Brothers Jeffrey and Chris Calkins invest in Shawnee's fine arts by purchasing the building located on Johnson Drive and Nieman Road
Couples and families walk down Johnson Drive and Nieman Road on weekend nights until they stop under the flashing lights of the Aztec Theatre. Then, as multi-screen theaters become a popular attraction, the theater is closed in the '70s. It is left empty for another 40 years, until just recently when brothers Jeffrey and Chris Calkins purchased it and made plans to restore it to the bustling theater it once was.
The Aztec Theatre, originally named the Mission Theatre, was opened in 1927 by Mayor Marion Summerour. As time went on, Dickinson Theatres acquired the building and changed the name and it operated until 1975 when is was closed for renovations, and never reopened. A couple running the Shawnee Fine Arts Foundation, Liam and Marie Tripp, attempted to purchase the theater earlier this year, but the deal fell through.
As the opportunity arose, Jeffrey and his brother decided to purchase the theater instead.
"My brother and I had looked at it previously. The opportunity came up earlier this year when somebody else tried to purchase it and failed to follow through with it," Calkins said. "My brother is good friends with the gentleman who previously owned the theater, and he brought up the idea of buying it, which is where the idea originated."
Most everything that will be inside the theater was recovered from other local fine arts establishments, from the decorations to the seats. In a photograph of former President Dwight D. Eisenhower, one can see a giant arch displayed behind him on a stage; that same arch will be present in the Aztec.
Senior Julia Feuerborn believes the theater will be a great opportunity for Shawnee, both culturally and historically. Her family also has ties to the Aztec.
"I think it will bring back a little historical piece of Shawnee from our parents' childhood and gives us an idea of what entertainment was like when they were our age," Feuerborn said. "My dad saw his first movie there, and now we'll be able to go see one there together once it reopens. I also think it will be fun because it's kind of old fashioned and retro. It'll be fun to watch movies."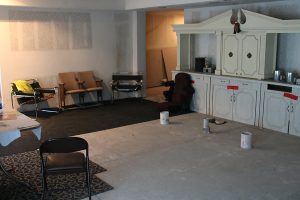 Calkins plans to open the theater in spring of 2018 and recognizes that the location has a massive amount of potential for both Shawnee and fine arts in general.
"I think it'll give people a reason to come down town, which is a big deal. It'll bring pedestrian foot traffic in the evening and on the weekends that we don't have anymore. As far as culture goes, I want it to be part of the reason people come down here and bring business to the theater, restaurants and stores," Calkins said. "Of course we want to show movies, but down the road we would love to convert it to a sort of music venue, so that'll expand on culture too."
(Visited 118 times, 1 visits today)