Girls soccer suffers season's second loss to BVN, defeat Gardner 7-0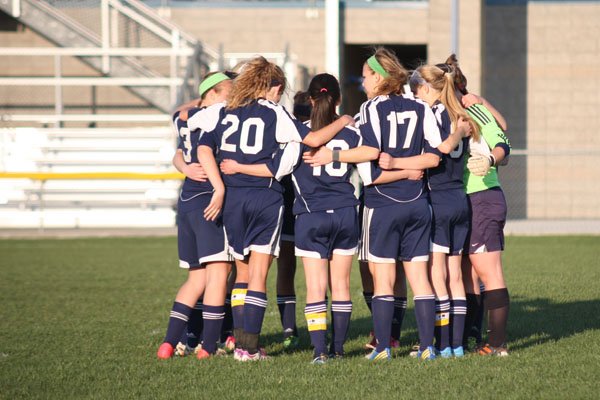 Hang on for a minute...we're trying to find some more stories you might like.
The girls soccer team fell to Blue Valley North on Monday, April 22 in a 3-1 loss, then, after an inclement weather delay, crushed Gardner in a 7-0 victory two days later. The team's first loss was a 2-0 result against Blue Valley on Friday, April 12.
Head coach Arlan Vomhof said that the pace of Monday's game was the biggest issue for the team, something that could be a bigger factor in the future.
"I think that's something we're going to find if we switch leagues: the speed of play is going to be a lot faster than what we go against in our league and that's something that we have to adjust to," Vomhof said.
By halftime on Monday, the team was able to keep the Mustangs within one goal. Senior midfielder Kayla Hamner scored ten minutes before the break with a hard shot in the bottom right corner after a pass from junior midfielder Abby Sieperda, just out of the North keeper's reach to equalize. Just 20 seconds before halftime, however, the Mustangs pulled ahead once again after a long cross into the box from the left side and a one-touch finish by a North forward.
The Mustangs held on to their lead for the entire second half, sealing the victory with a goal just under two minutes before the end of the game.
During the game on Wednesday at Gardner, the team shut down the Trailblazers, scoring 7 goals while sophomore goalkeeper Kaia Minter kept a shutout.
After a wet spring, the team will play a slew of makeup games over the next two weeks. Vomhof is worried about how the rigorous schedule as well as lack of practice outside will affect the team.
"We play three games this week; we play four next week; we play three the following week. It's going affect us because of fatigue, for one, and I just feel like we haven't been able to work on stuff on a field like we need to," Vomhof said. "I feel like we haven't taught the girls a lot of the stuff they need to be taught this season just because we haven't had the use of space outside."
The Lady Jags will play again Friday, April 26 at home against Shawnee Mission Northwest.

(Visited 5 times, 1 visits today)
About the Writer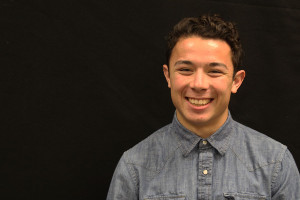 Jack Lopez, JagWire managing editor
Senior Jack Lopez is in his third and final year on the newspaper staff. After being a reporter one year and the opinions editor the second, he will be the managing and copy editor for the 2013-2014 publication. When he isn't in the journalism room, Jack is usually playing soccer, making music or working. One of his favorite quotes is "Be soft. Do not let the world make you hard. Do not let pain make you hate. Do not let the bitterness steal your sweetness." - Kurt Vonnegut