Girls basketball falls to Tonganoxie
The Lady Jaguars took their last home game to recognize their three seniors
The Lady Jaguar basketball team lost to Tonganoxie 24-39 on senior night, Tuesday, Feb. 25. At the end of the first half the Jaguars were down 5-12.  Just after halftime the score was 9-27 in favor of Tonganoxie. Despite the loss, the Lady Jaguars also took the night to honor their three seniors.
Senior guard Kylie Lewis said that this game did not feel different from the others; her team was very energized and ready to play.
"As a team we were excited," Lewis said. "We knew we had to come out with a lot of energy and focus, to me though it was just like any other game."
Senior forward Laurel Knust said  her last game at home was special and she could not believe how fast her high school career flew by.
"It was definitely bittersweet," Knust said. "The last four years have gone by fast and it never really hit me until now."
Lewis said that despite the loss the season is far from over .
"It would have been nice to win our last home game ," Lewis said.  "We can't let that effect how we play in our sub state games."
(Visited 42 times, 1 visits today)
About the Contributor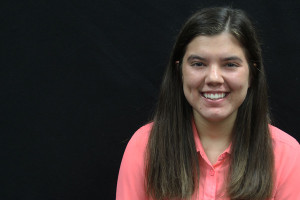 Erika Kringen, JagWire briefs editor
Sophomore Erika Kringen is a first year JagWire staff member. Kringen has been involved in many sports and activities since starting high school. She has ran track, cross country and plans to join the swim team in the spring. Erika Kringen is  in the musical , student ambassadors,and is a freshmen mentor this year. Kringen is looking forward to writing many stories and meeting new people while being a member of the JagWire staff.