Girls basketball defeats Lansing 59-48
The girls basketball team won after solidly holding the lead the whole game on Tuesday, Jan. 15
Ben Wieland, Mill Valley News editor-in-chief
January 17, 2019
With 2:07 to play in the fourth quarter of the girls' basketball team's win, Lansing knocked down a 3-pointer to cut the lead to 49-45. Unfazed, senior center Trinity Knapp grabbed an offensive rebound and finished an and-one layup to get the school's lead back up to seven points. The team pulled away in the final seconds to win 59-48.
The putback basket off an offensive rebound helped Knapp finish with a team-high 21 points. Head coach Drew Walters thought the team's rebounding was key to their offensive performance.
"We rebounded really well initially," Walters said. "[Rebounding helped us] attack the basket, get to the free throw line. We rebounded really well."
The team opened the game by scoring the first 11 points and holding Lansing scoreless for the first 4:46 of the game. However, the Lions quickly figured out their offense and knocked down three 3-pointers en route to a 14-2 run, capped by a buzzer beater, to close the first quarter. After one, Lansing led 14-13.
However, Walters knew the team would be resilient.
"We got a lot of seniors who have been through a lot, and they do a great job of staying calm," Walters said. "There's no panic right now with this team."
"[Lansing] responded back and got a little confidence. We stopped doing what made us successful," Walters added. "But it's a game of runs, they had theirs, and then we came back and were able to get ours."
The game stayed close, with the team hanging to a six- or seven-point lead through most of the second and third quarters. But, with a buzzer beater to end the third quarter and a few baskets early in the fourth, Lansing was able to cut the lead to four. Once again, the team came back.
First came Knapp's and-one basket. Then, a steal by senior Claire Kaifes and a fast break layup to give the team a nine-point lead with 1:23 to play. Walters was pleased to see other players on the team step up.
"We had some people step up and play some important minutes for us," Walters said.
Knapp agreed with his point, as she believed that ball movement was key to the team's win.
"We shared the ball really well," Knapp said. "Getting the ball to both posts and guards."
The team's next game will be a home game against Shawnee Mission South at 7 p.m. on Tuesday, Jan. 22. With a worn-down team, Walters is looking forward to the break.
"We got an injury tonight, we just have to get rested up and regrouped," Walters said. "We'll use the next few days to iron out any wrinkles we see for next game."
(Visited 71 times, 1 visits today)
About the Writer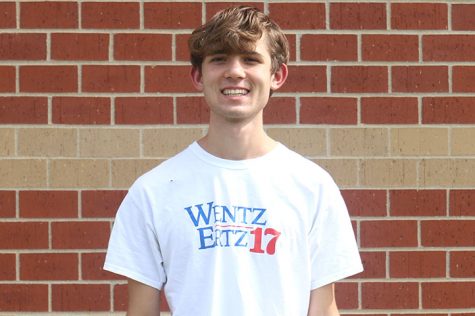 Ben Wieland, Mill Valley News editor-in-chief
This is senior Ben Wieland's third year on staff and his second year as Mill Valley News editor-in-chief. When he isn't running the website, you can find Ben at StuCo, Youth for Refugees, Young Democrats or Quiz Bowl meetings — and if he isn't there, he's probably at home watching TV.