Game Preview: Football team takes on De Soto in massive rivalry matchup
Mill Valley's offensive threats are good enough to dominate a mistake-prone De Soto defense
When Mill Valley runs the ball
In the regular season, Mill Valley's impressive run game took care of weaker opponents and kept the team in games against teams like Bishop Miege and St. Thomas Aquinas. In the postseason, though, it's been nothing short of dominant. 
The mix of running backs Tyler Green and Quin Wittenauer has proven especially effective — in last week's game against Olathe West, the two combined for 268 rushing yards on 32 carries. It'd be an issue for any team to contain the one-two punch of Green and Wittenauer, but it's especially a problem for a De Soto defense that hasn't faced a running back of their caliber all season long and, as a result, can make head-scratching mistakes. 
This is the very first snap the De Soto defense plays against Pittsburg. The Pittsburg offense, who Mill Valley shut out earlier in the season, is not complicated nor especially talented. The playcall is a pretty standard outside run. However, every single De Soto linebacker immediately commits to the inside, allowing Pittsburg to set up its run and pick up 16 yards. 
While De Soto might've been able to get away with these mental lapses against weaker teams like Pittsburg, against a potent Mill Valley rushing offense, these mistakes will make things easy for the Jaguars — and when push comes to shove, Green and Wittenauer both have experience in important situations and a proven ability to make big plays. De Soto's front seven does not.  
Advantage: Mill Valley
When Mill Valley throws the ball
The passing offense for Mill Valley has been hit-or-miss all season long. Quarterback Cooper Marsh has the arm strength and wide receiver talent to make big plays happen, especially with the imminent return of slot receiver Ty Reishus from injury. However, when facing stout defenses, the passing offense has sometimes been turnover-prone; against Miege and Aquinas, Marsh threw six combined interceptions. 
Thankfully for Mill Valley, they aren't playing Miege or Aquinas. They get to face a De Soto secondary that, just like their front seven, struggles to stay disciplined and allows big plays in the deep passing game. 
Watch De Soto's single high safety on this play. He's playing a deep zone with practically the sole responsibility of taking away a go route up the middle of the field, and yet inexplicably decides to vacate his zone to attempt to take away a five-yard out route on second and 15. This busted coverage allows Pittsburg to simply throw over the top of the defense for an incredibly easy 49-yard touchdown. 
The Jaguars love to run this exact same route for their slot receivers, usually Reishus, and they've done so successfully against defenses that are actually in position. If De Soto blows coverages like this against Mill Valley, it's going to be a long, long game for them. As long as Marsh can continue to limit his turnovers — he hasn't thrown an interception in the postseason, and has only two in the last four weeks — Mill Valley should be able to pick apart De Soto's secondary. 
Advantage: Mill Valley
When De Soto runs the ball
For a team that averages nearly 47 points per game, there's not much nuance to the De Soto offensive scheme. They almost invariably line up in the same bunch 12 personnel look, motion a tight end into the backfield and then run one of a handful of plays. 
What makes their offense special is the dual-threat ability of quarterback Jackson Miller. He has impressive speed and is effective as a ball carrier. In the open field, Miller is surprisingly nimble and skilled at making defenders miss; he turns five-yard gains into fifteen-yard first downs with his open-field playmaking. 
Miller isn't afraid to tuck and run when the play demands it, and he can create space out of nothing. On this play, he spins out of an attempted tackle and nearly breaks away from the defense entirely before finally being tripped up. Miller's running talent is unquestionable. 
What's also unquestionable, though, is the stoutness of Mill Valley's run defense. The unit has made incredible progress throughout the season: after allowing four fourth-quarter rushing touchdowns to Blue Valley West running back Riley Cummings in the season opener, the defense limited Aquinas's star running back Tank Young to only 103 total yards and hasn't allowed a touchdown on the ground yet this postseason. 
The lack of a marquee running back for De Soto may also prove to be problematic against Mill Valley. Junior Tyson Priddy is serviceable, but he simply doesn't have the physical tools of some of the other running backs the Jaguars have seen this season. The scariest part of their run game is definitely the mobility of Miller, and as long as the Jaguar defense can contain him and keep him out of space, they win this matchup. 
Advantage: Mill Valley
When De Soto throws the ball
De Soto has used their passing game as a change-up to supplement their ground game all year long. This calls into question whether or not they can effectively lean on it in a big game, especially with so few variants of passing plays. 
However, the numbers don't lie when it comes to this De Soto air attack: it has been nothing short of dominant all season long. Miller has completed nearly 64% of his passes for an average of 18.8 yards per completion and thrown 15 touchdowns to only one interception. 
Simply put, when defense start to creep up and key in on the run, Miller has the arm strength to take advantage. 
On this play, the defense lines up with seven men in the box and no high safety. They're clearly committed to taking away the run. Miller recognizes that his slot receiver is covered by only a corner and that there will be no safety help over the top. The timing on the corner route is good, and Miller's throw is great. 
Miller can also throw on the run in a way that no other quarterback Mill Valley has seen this year can. 
Especially when rolling to his right, Miller is always a threat to make things happen in the passing game. Expect these passing plays to be used sparingly in this game, but expect them to be effective. 
Advantage: De Soto
Special teams
Mill Valley kicker Chris Tennant has been nothing but consistent this season. He's made nine of 12 field goals, with one of his misses due to a blocked kick, and all 41 of his extra points. De Soto kicker Eli Gratz is a worrying two for five on field goals this season and missed one of his 50 extra point attempts. 
However, the Mill Valley special teams units have had their share of miscues this season as well — Daniel Jackson of Miege's game-winning squib kick return touchdown against the Jags is the most memorable of these, but muffed punts also plagued the team for the first half of the season. At this point, it's difficult to say either unit is better than the other — what De Soto lacks in talent on special teams, they make up for with disciplined play. 
Advantage: Even
Intangibles
Mill Valley and De Soto haven't met on the football field since 2003, but the sixteen-year gap hasn't alleviated animosity between the rival high schools one bit — in fact, T-shirts to commemorate the game have already been ordered. Tensions will be running high on both sides, and while De Soto will nominally have home field advantage, expect the crowd at the game to be split practically 50-50 between them and Mill Valley. 
Advantage: Even
Prediction
While it is admittedly difficult to pick against 10-0 De Soto, their strength of schedule simply isn't impressive enough to give that undefeated record any weight. I don't believe De Soto has the experience of adversity that Mill Valley does — and I do believe that at the end of the day, Mill Valley has more talent on their roster top to bottom. 
Especially with weather conditions in flux, I expect both teams to rely heavily on their run game. I have no doubt that Miller will be able to make a few bursts of magic happen for the De Soto offense, but Mill Valley's defense should be able to come up with at least a few stops — and either way, I don't see the De Soto defense slowing down a Mill Valley offense that has hit its stride. 
Mill Valley 35 – De Soto 21
(Visited 2,163 times, 1 visits today)
About the Writer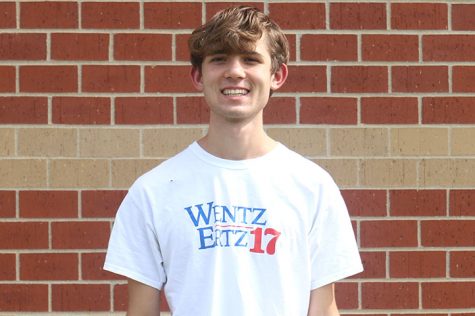 Ben Wieland, Mill Valley News editor-in-chief
This is senior Ben Wieland's third year on staff and his second year as Mill Valley News editor-in-chief. When he isn't running the website, you can find Ben at StuCo, Youth for Refugees, Young Democrats or Quiz Bowl meetings — and if he isn't there, he's probably at home watching TV.