Spirit wear sold for USD 232 rivalry football game
$2 from each sold item will go to the De Soto Food Pantry; order forms are due Monday, Nov. 11 at 10 a.m.
Anna Owsley, Mill Valley News editor-in-chief
November 10, 2019
Brimming with anticipation, the USD 232 district awaits its intradistrict football showdown, taking place Friday, Nov. 16 at De Soto High School. It's been 15 years since the schools faced each other on the field, and there is no shortage of school spirit on either side; therefore, it's only fitting for the schools to deck out in spirit wear.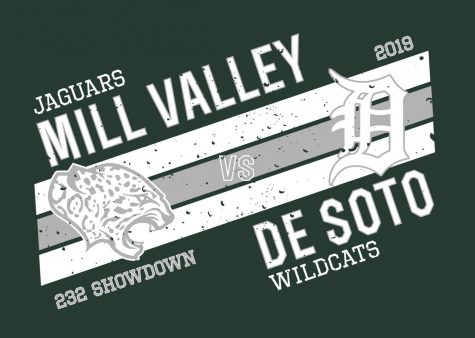 A district wide opportunity, put on by the Jaguar Leadership Club with the help of some De Soto students, to purchase showdown specific apparel allows students, administration, staff and families to show support for their team and assist the De Soto Kansas Food Pantry.
All spirit wear showcases a design depicting the year and the opposing schools (the design is shown on the left and above) and are offered in both schools' colors, navy blue for Mill Valley and dark green for De Soto.
$2 from each item sold is being donated to the De Soto Kansas Food Pantry, either in cash or cans, to incorporate an aspect of giving alongside the competitive atmosphere surrounding game. The director at Cosentino's Price Chopper, located in Shawnee, is working with the Jaguar Leadership Club to maximize the number of cans they can buy with their funds.
These are the apparel options:
Gildan Short Sleeve T-Shirt (navy OR green) – $10
Gildan Long Sleeve T-Shirt (navy OR green) – $15
Gildan Crewneck Sweatshirt (navy OR green) – $20
Gildan Hoodie (navy OR green) – $25
Comfort Colors Short Sleeve T-Shirt (navy OR spruce) – $15
All apparel options are offered in the following sizes: S, M, L, XL, XXL and XXXL
Many students have invested in spirit wear, including junior Prathik Gadiraju. He believes the game will be a fun opportunity for the district.
"[It's] going to be a great game to go to because a lot of people have friends at both Mill Valley and De Soto," Gadiraju said.
Gadiraju also stress the importance of having school spirit.
"I believe school spirit is something that brings everyone together. The sporting events are always crazy, and just being there with your friends and having a good time is awesome," Gadiraju said. "I feel like you won't forget your time at high school if you have school spirit."
Order your spirit wear here.
Loading ...
It's been 15 years since @Football_DeSoto and @MVJaguar have faced each other. Show your spirit for either team and support the De Soto Food Pantry by ordering your 232 Showdown spirit wear from @SpotOnApparel by Monday morning.https://t.co/x4tXMRvVOv

— Mill Valley News (@millvalleynews) November 9, 2019
(Visited 500 times, 1 visits today)
Hang on for a minute...we're trying to find some more stories you might like.