Future Wal-Mart causes controversy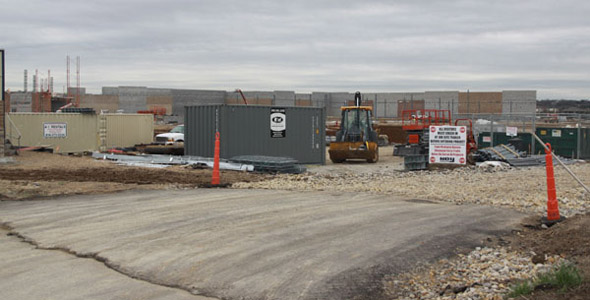 Despite objections from nearby residents, a Wal-Mart Supercenter of 147,848 square feet is under construction at the southeast corner of Johnson Drive and Kansas 7 Highway.  According to the Shawnee Dispatch, it is expected to open by the end of 2013.
The plan to build a Wal-Mart Supercenter was first announced in 2005, but construction has been pushed back several times due to various reasons, such as the economic recession and construction on the nearby Kansas 7 highway. The main delay, however, was the uproar against the store from citizens of the Grey Oaks housing subdivision next to the building site.
Grey Oaks citizens were concerned with Wal-Mart affecting their neighborhood through possible traffic congestion, loss of property value and loss of small businesses. Lawsuits were filed against the city and the subdivision developer but were later dropped against the developer and won by the city.
Sophomore Beth Pfister, who lives in Grey Oaks, is concerned about having a new Supercenter nearby.
"It's unnecessary because we have one in Bonner [Springs] and one in Shawnee already," Pfister said. "It's too big and in a bad location too. There will be traffic where kids are walking, and it will lower the value of our homes. I just really don't think that we need it, or should have it."
Sophomore Madeline Grube, who does not live in Grey Oaks, also finds it to be unnecessary.
"Honestly, I don't think we need a Wal-Mart there," Grube said. "It's too close to the neighborhood, and it kind of ruins the area. It provides a place nearby to shop, but I think it will cause a lot of congestion. I think I just naturally dislike it because of the obvious reasons, like potential for crime, congestion, it's ugly and right next to the neighborhood."
On the other hand, Grey Oaks resident junior Joe Gunter said that the Wal-Mart Supercenter will be a great addition and is excited to have the new store near his house.
"The area there is unused right now and it will bring more businesses around us, which will be good," Gunter said. "It will provide another option to buy stuff at. There's no place for us to buy technology immediately around us right now, so that will be cool. I don't see why people wouldn't like it."
The Kansas City Star reported that citizens of Bonner Springs are also concerned about how the new Supercenter will affect their area. The new Wal-Mart will be only six miles away from the existing Wal-Mart there, and Bonner Springs residents are worried about the possible loss of business.
However, Bonner Springs Community and Economic Development Director Marcia Harrington said that the new Supercenter will not have any effect on the existing Supercenter that is in Bonner Springs.
"I don't think that it will affect us at all," Harrington said. "We do experience some shoppers from Johnson County, but the majority of shoppers are from Wyandotte County and Leavenworth County. I know that Wal-Mart has done extensive research and has seen that the metro is a very growing area, so I'm sure they've seen a market expert here, and that's why they've chose to put the Wal-Mart in Shawnee even though that makes it close to ours."
Senior Cole Clay said that Wal-Mart Supercenters are harmful to neighborhood-based areas.
"It'll drive traffic through the area and decrease home values throughout the area," Clay said. "It will also squeeze out quite a few of the local businesses in the area. There won't be any real revenue gain either, since Wal-Mart's new profits will be cancelled out by losing small businesses. It'll also drive away some of the potential new homeowners in the area since people moving into this area, aka those with kids, won't want the increased traffic and reputation that having a Wal-Mart brings."
(Visited 51 times, 1 visits today)
About the Writer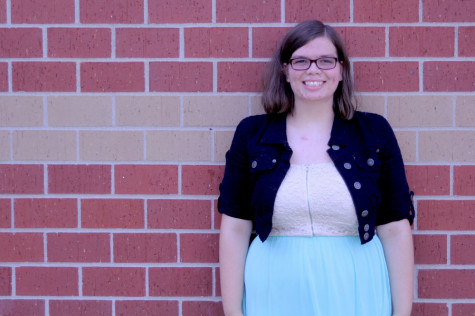 Katherine White, JagWire editor-in-chief
This is Katherine's third year on staff, and she is excited to work on the newspaper with a great staff this year. She is also involved in band, quiz bowl and literary magazine. When she is not in the journalism room or practicing an instrument, she is probably daydreaming about being in Disney World.