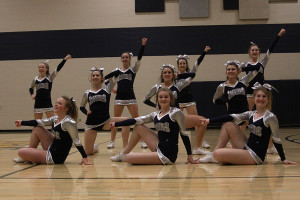 Annie Crouch, Sarah Myers, JagWire reporter, JagWire reporter

March 12, 2014
The cheerleaders hosted their first ever district showcase on Friday, March 7. The De Soto High School and Monticello Trails Middle School squads joined the Mill Valley squad to perform various routines from the season, such as those performed at competition and pep assemblies, as well as individual...
Katherine White, JagWire briefs editor

April 19, 2013

Filed under NEWS, Top stories
Despite objections from nearby residents, a Wal-Mart Supercenter of 147,848 square feet is under construction at the southeast corner of Johnson Drive and Kansas 7 Highway.  According to the Shawnee Dispatch, it is expected to open by the end of 2013. The plan to build a Wal-Mart Supercenter was...