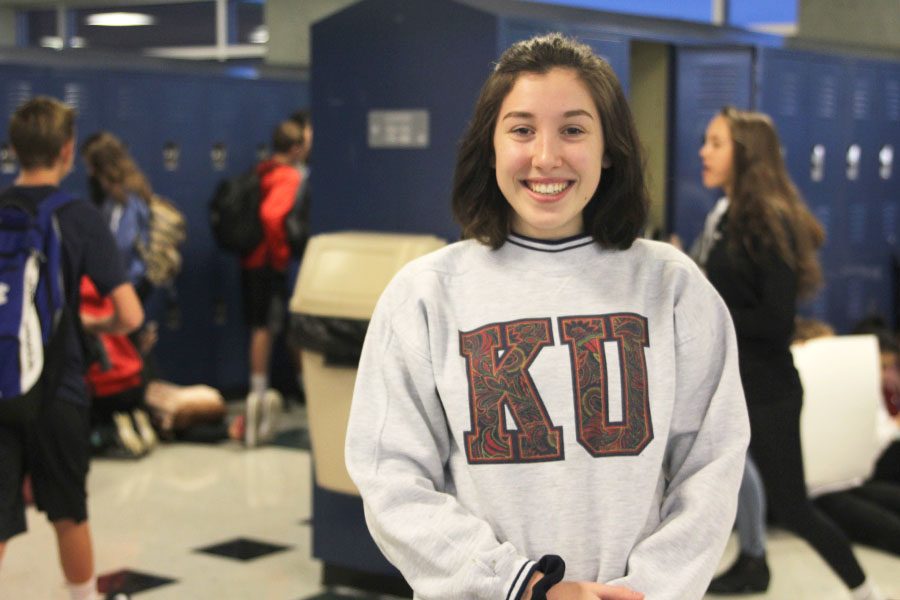 Freshman Analiese Wilhauk enjoys the Upper B locker banks
The locker banks provide a significant meeting place for Wilhauk and her friends
The Upper B locker banks are a popular place for freshman to gather and meet with their friends before school starts. One of these students is freshman Analiese Wilhauk. She originally chose the location because it was close to her locker, but now it has become a gathering place for her and many of her friends.
Wilhauk usually meets with her friends in the morning before classes and they discuss a variety of topics as a group.
"It's where a lot of people hang out in the morning and where I see my friends," Wilhauk said. "We just sit and sometimes work on homework. We'll talk it out in our group and we'll also talk about things that are going on in our lives."
One of Wilhauk's friends is freshman Angelina Rico, who frequently sits in the locker banks with Wilhauk and believes that spending time together in the morning has helped them grow closer and makes it easier to keep communication with each other.
"We've grown closer because we have a lot of time in the morning to talk about what's going on," Rico said.
On the other hand, freshman Belle Baker, who has known Wilhauk for years, said that the locker banks haven't significantly impacted her relationship with Wilhauk because they were already friends before they began sitting together in the locker banks.
"We were already really good friends, so it wasn't unusual for us to hang out there," Baker said. "We pretty much have the same relationship."
However, Wilhauk agrees with Rico and  believes the location has helped her maintain her schedule while still being able to see her friends.
"When we're there we talk a lot and it helps us stay connected during school," said Wilhauk. "We don't see each other that often because we don't have a lot of classes together, so I enjoy our time."
(Visited 25 times, 1 visits today)