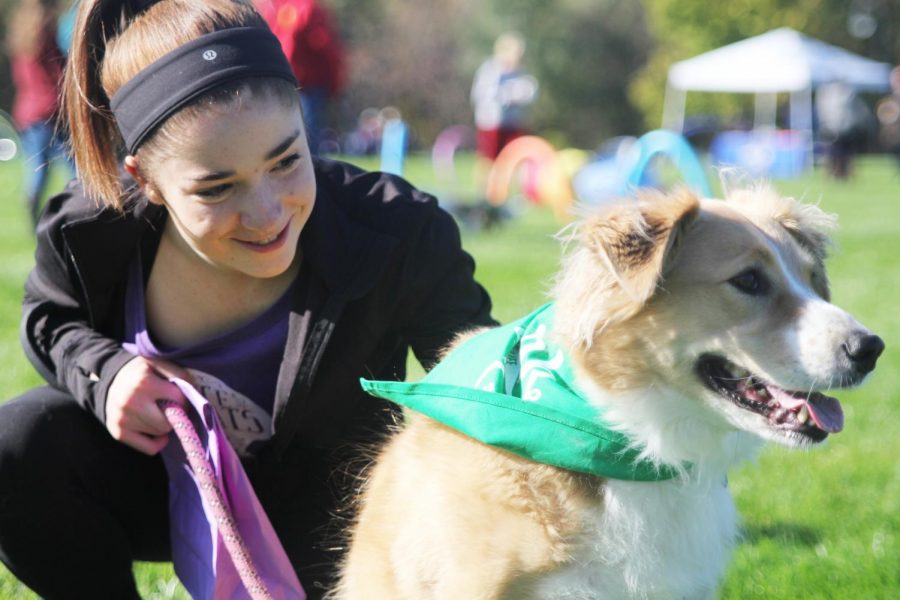 First annual Bark for Life hosted by school
Members of the community and their dogs took part in the event at Garrett Park on Saturday, Oct. 20
After six months of planning, Jaguar Nation hosted its first annual Bark for Life event at Garrett Park on Saturday, Oct. 20. Students and members of the community participated in games, heard from different guest speakers and were able to purchase food and dog treats from vendors.
Bark for Life of Jo-Dotte is TODAY! Registration starts at 9:30 & opening ceremony will kick off the event at 10:00. Come & have an afternoon filled w/ fun activities to support the American Cancer Society. You can STILL register — just see the table upon arrival. See you there! pic.twitter.com/PG4DL2AGJX

— RFL of Jaguar Nation (@jagRFL) October 20, 2018
The event was proposed by senior co-chairman Kate Backes after the opportunity for seniors to create a service project was offered in the Jaguar Leadership Core class. Backes decided to organize the event in conjunction with the American Cancer Society.
"I wanted to do something related to Relay [for Life] because that was something I really enjoyed planning," Backes said. "I figured we could use another fundraiser during the fall so I came to Bark for Life of [Johnson and Wyandotte counties] and we actually ended up hosting the event."
The event itself was formerly held by the two counties, but will now become an annual event with Jaguar Nation.
"Last year it was their own separate thing, it wasn't related to Jaguar Nation at all," Backes said. "But, our Relay [for Life] is so strong and our committee is so good that when I reached out to the American Cancer Society representative about it, they agreed to help out with the planning process."
Organizing the event along with Backes was junior co-chairman Abbie Morgan, who saw the event as "a good opportunity … to help out with something [she] loves."
Backes and Morgan received sponsorship for the event from several local businesses, such as KC Canine, Barksville Bakery and U-Wash Puppy. All of the efforts from community members and the activities made the event fun for senior Ambria Shawger.
"There's a lot of people here, there's a lot of dogs and everyone looks like they're having a really fun time," Shawger said. "The puppuccinos are a hit with the dogs, my dog had his entire nose stuck into a cup."
Similarly, freshman and Relay for Life sub-committee member Maddie Williams felt the event was exciting for both herself and her dog.
"Me and [my dog] Frostie are having a lot of fun," Williams said. "He's played with a lot of the dogs and really likes his Relay for Life bandana."
For Morgan, the time and energy spent organizing the event was all worth it.
"It's really surreal, seeing it happen. I've almost cried a few times," Morgan said. "It's really exciting, seeing all the dogs and knowing that all the hard work we've put into this has paid off and everyone is just having a good time with their pups."
(Visited 24 times, 1 visits today)