District superintendent Dr. Frank Harwood to retire at the end of the school year
Harwood, who will be replaced by Dr. Cory Gibson July 1, has served USD 232 for seven years
After seven years at the helm of USD 232, superintendent Dr. Frank Harwood plans to retire from the De Soto school district Friday, June 30 leaving behind a legacy of difficult and important decisions. 
The start of Harwood's job punctuated nearly a year of the district acting under interim superintendent leadership following a 2015 mass resignation of 11 certified administrators. Harwood, who previously served as the Bellevue, Nebraska Public Schools superintendent, was already familiar with the De Soto community and saw potential for the young district back in 2016.
"When I started, [the district] seemed like it was in a good position to really move forward and make some really positive changes and positive steps all the way around," Harwood said. "I felt like that was a good fit for my leadership style and what I wanted to do."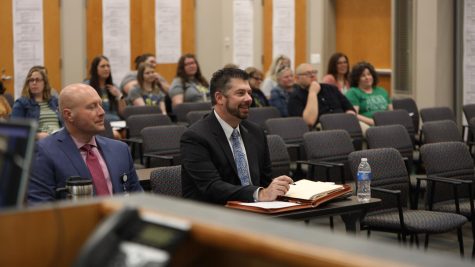 The Board of Education extended a job offer to Harwood in March 2016.
Since his takeover at the district office, Harwood has been involved in numerous district milestones including the approval of the 2018 bond issue, the district's One-To-One technology initiative and, most recently, the building of the Panasonic Lithium-ion battery facility in De Soto. 
"De Soto has gone through a lot of growth since I started," Harwood said. "When I was first teaching at Perry-Lecompton in [19]93, a lot of the growth was just starting here. The first year in the district I quickly noticed how great the community was, not everybody seems to know that. Some of the things we've worked on is helping the districts have more recognition for what's going on. It's not that we are necessarily trying for rankings or state titles, but those are the kinds of things that we have to make sure people know about."
Assistant superintendent Alvie Cater can best recall Harwood's laid-back disposition and eagerness to interact with the community when he was hired.
"My personal observation is that Dr. Harwood has a very calm and professional demeanor. That is extremely helpful when dealing with complex organizations like a school district," Cater said. "I think it was very important to the Board to have someone that could interact with staff and members of the public, including our parents and families in a manner that would be a good representation for the school district."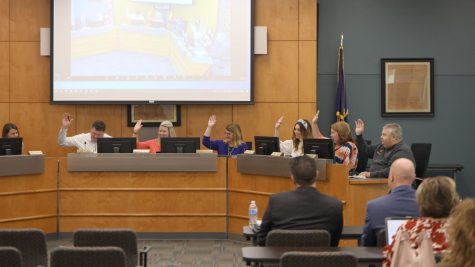 School Board member Stephanie Makalous, who has worked with Harwood for three years, appreciated the visionary aspect of Harwood's character, believing it has furthered the district from where it once sat at the start of her own tenure. 
"Dr. Harwood is a strategist and looks at the big picture for not only our district, but our community and students," Makalous said. "I appreciate his vision for what is to come, he is able to guide our district to be proactive versus reactive when it comes to growth and planning. I also appreciate Dr. Harwood's calm demeanor; he is able to deal with difficult situations in a very professional manner with an open mind. 
Having an open mind is something Harwood said he wouldn't have had in a greater capacity had he not experienced leading the school district through COVID-19, an experience that he "couldn't have predicted signing up for."
 "Thinking back to the spring of 2020, I was involved in meetings all over spring break about what was going to happen and how this was going to work. It was a matter of pivoting into, 'Okay, how do we do remote learning?'. In retrospect, we've made a really good decision to have one device per learner and the introduction of Canvas because that infrastructure would have made getting through COVID much smoother."
According to Cater, Harwood went above and beyond to ensure the district stayed consistent in their approach to instruction both inside and outside of the classroom.  
"Not many people know this, but he spent many hours really trying to guide the district and Board of Education into areas that we've never been before," Cater said. "I saw his strength of character in terms of being very calm in the midst of trying times which was very helpful to us. None of us are perfect and as you reflect as a school district and Board of Education on all the decisions that were made, the thing that I kept in my mind is that Dr. Harwood and the Board of Education were doing the very best they could for our schools and community."
Valley Center USD 262 superintendent Dr. Cory Gibson will be appointed to Harwood's position effective July 1. With final employment discussions and formal approval by the Board pending, Makalous holds an optimistic outlook on the district under new leadership.
"In searching for the next superintendent, the board is looking for both strategist and professional qualities like that of Dr. Harwood's and I believe we have found this in Dr. Cory Gibson," Makalous said. "Dr. Gibson understands that our district is in a great place and is ready to help us continue to grow and expand." 
To start his retirement, Harwood plans to spend the first two to three months with his family and newborn granddaughter but hopes to return to the leadership scene part time though he undecided on what that leadership role will look like. Instead of leaving behind a legacy for the district to remember him by, Harwood prefers to leave memories in his absence.
"It really goes back to a feeling, not necessarily a legacy that I want left after me," Harwood said. "That feeling of things being better than when you started. I think that's true for everybody in any situation. Financially, the district is in a better position. Some of that is because of the state but I think, internally, when we get good systems in place, we've got a great supportive community behind us to support that system. It's just that feeling of leaving the district knowing it's in a great place and knowing I had some part of that."
(Visited 202 times, 1 visits today)