District implements new security features as part of safety initiative
After the passing of an $85 million bond, the district has budgeted $2 million for new security features in all schools
The district budgeted over $2 million to implement new security measures after the passing of the USD232 bond. The most recently implemented measures are a door security system and the installation of magnets on every door within the building. Additionally, in compliance with new state standards, schools now have to complete nine "crisis drills," with one of them being an intruder drill. More features will be implemented in the coming school years.
The obvious reasoning behind all of the new security features, including door access systems, magnets, drill revaluation, notification systems and cameras, is to prepare students for an actual emergency, according to school resource officer Mo Loridon.
"The harder we make it for someone to get in, the easier it is to stay safe and for me to get [to an emergency] faster. That's not to say that they definitely can't get in, but we're certainly going to make it hard on them," Loridon said. "We just want to keep people safe."
The door security system, installed on Tuesday, Oct. 16, works like a home security camera, according to superintendent Frank Harwood. Front office personnel can identify visitors before they approach the door and can allow building access based on whether or not they are a known visitor. However, according to assistant superintendent Alvie Cater, in the case of an unidentified person, front office personnel follows emergency procedures.  
"Procedures would include the opportunity for our staff to ask for ph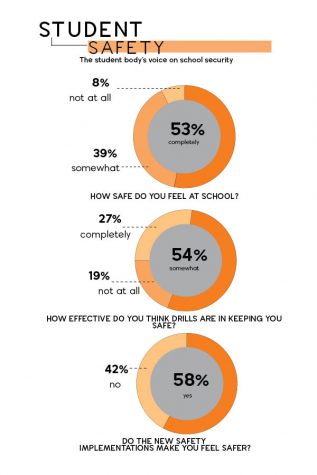 oto identification, a line of questioning, so that we can make sure we know why they are here and that they actually have legitimate reason for being here at the school," Cater said. "[If they don't have a reason,] protocol would be simply to deny access. In extreme cases, we can certainly get other administrators involved or even our school resource officer here. It's a process in which we can better control who has access to the school during the school day."
According to secretary Lynn Bath, traits that would mark somebody as suspicious are severe nervousness and uneasiness or if they are wearing bulky, bumpy clothing. Bath and the rest of the secretaries had to undergo training in order to utilize the bell.
"Cater and the [director of technology Brandon Riffel] came by and gave us some questions to ask in order to get the identity of someone," Bath said. "They [also] gave us the OK to say something like 'can you let the next person come up' if there's a big group, so that everyone can be properly vetted as opposed to us [letting one personin] and unintentionally letting other people in."
For Loridon, the system is "absolutely necessary" and helps USD 232 match resources already available to other districts.  
"A lot of school districts [in the area] already have some type of doorbell system where [they] can keep people out until we let them in," Loridon said. "It's just a way to know who someone is before they come in."
In addition to the new doorbells, the magnets on each door were installed on Tuesday, Aug. 21. Although the magnets may seem mild in comparison, they have a simple, yet effective use, according to Loridon.
"Instead of teachers having to reach outside the door with their key to lock the door, which most teachers have to do, you just push the door open and pull the magnet out," Loridon said. "We did that because in times of crisis people lose their motor skills and their ability to do small tasks like put keys in a door, but we keep our gross motor skills so we can do big things. It's easier to pull a magnet out than trying to put keys in a door while you're stressed out."
The plan to implement new crisis drills, in addition to the required four fire drills and three tornado drills, was issued by the Office of the State Fire Marshal and the mandate came from the Final Appropriations bill. The mandate, however, does not specify what constitutes a crisis drill and only includes that at least one must revolve around an intruder.
"We have worked with the different schools about different types of drills that could happen," Harwood said. "The drills will be something you will experience and be part of and we certainly hope students feel reassured that we have a plan if something were to happen."
The drills have the intent of being preparative, however, according to sophomore Jake Burton, the attitude students have towards drills is counterproductive.
"I do not think high school students take drills seriously at all," Burton said. "The drills need to be taken somewhat seriously, at least the first couple times we do them, just so that we know what to do in case of an emergency."
Burton believes a large part of this attitude comes down to students being unable to differentiate between a drill and an actual emergency. Loridon is looking to cha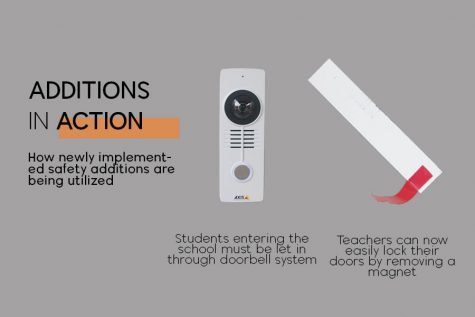 nge that.
"If we're drilling I make sure I say we are, so make sure you're paying attention when the announcements are made," Loridon said. "[Despite the announcements,] if you're going to do a drill, do it well."
As for upcoming implementations, within the next two school years every school in the district is expected to gain a mass notification system as well as more security cameras in densely populated areas. All current security cameras will be replaced with higher-quality ones.
Cater believes, while the district will do anything in its power to protect students, the responsibility is ultimately shared with students.
"I think one of the messages in my mind is we want students to know that we are working to make sure that school remains a safe place, but I want them to remember if they see something, say something and to always be aware," Cater said. "Really it comes down to individuals who may have knowledge of things that may be concerning. The more that we know, the more that law enforcement knows and the quicker things can be done to address those concerns."
(Visited 48 times, 1 visits today)