DECA members compete at state competition in Overland Park
Multiple members placed and two qualified for nationals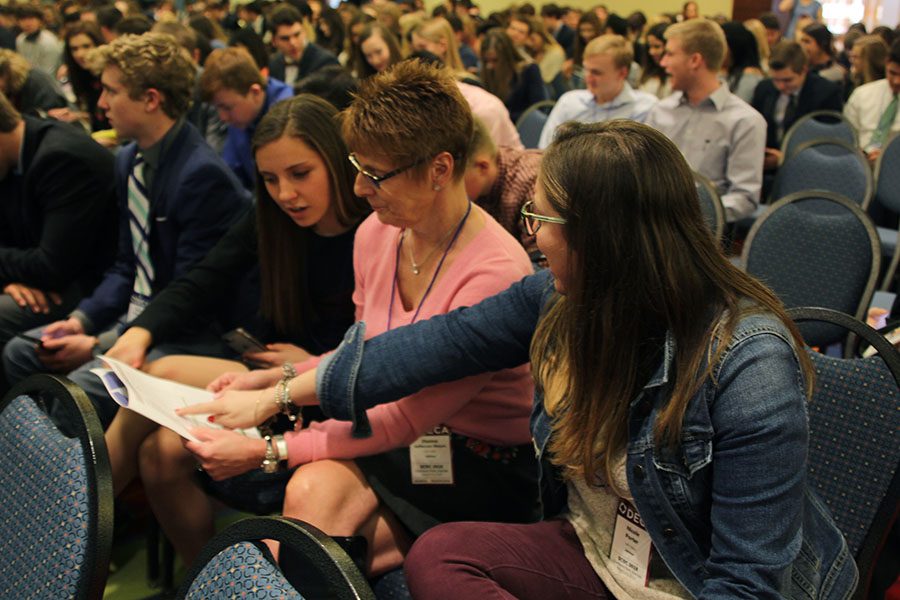 Nearly everyone who participated in an event placed in the top 10 at the state DECA competition at the Marriott hotel in Overland Park on Sunday, March 4 through Tuesday, March 6. Members have two role-play scenarios along with a test that might be longer than normal. Senior Vice President Hailey Stelle and junior Seth Hobson secured a spot at nationals.
Stelle placed top ten for role-play and top ten for testing. As a third-year DECA member with a lot of experience competing, she had a positive outlook going into state.
"I went last year and I had a good time with all my friends," Stelle said. "It went really well last year, so I expected it to be the same this year."
Stelle believes the practice during the year was helpful.
"We had local competitions throughout the year that [prepared us] and helped us," Stelle said. "We could also go practice on our own time and use the booklets to practice."
Junior Adam Bachoroski placed in the top ten for role-play and eighth for testing. Seeing everyone do well in the competitions was a highlight for Bachoroski.
"In state you're doing a lot more work than you're used to," Bachoroski said. "I liked the awards ceremony because it was showcasing all of our hard work."
A state-wide meet is unlike local competitions, according to Stelle.
"State is a lot more intense than competitions in the area because there's more competitors and different categories," Stelle said. "They pull in everybody from across the state rather than just our area which we normally compete against."
With the application of their practice in competitions, Bachoroski thought state went better than previous years.
"We were more prepared than last year," Bachoroski said, "And we had a lot of practice."
(Visited 37 times, 1 visits today)