DECA members celebrate success after first competition
DECA club leaves first competition with success
More DECA/Marketing coverage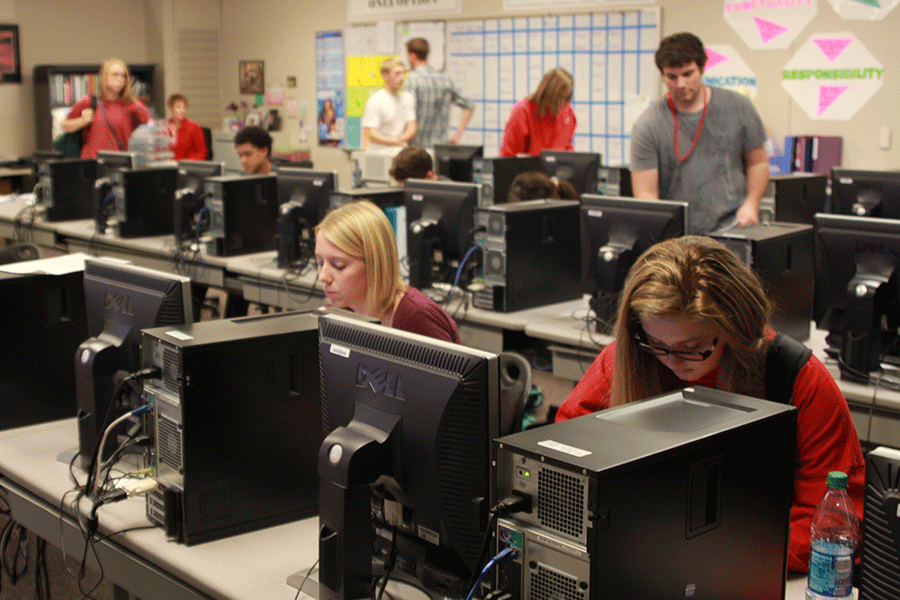 On Tuesday, Oct. 28, DECA club members traveled to Blue Valley Northwest for Mill Valley's first ever DECA competition. The team was successful, with three students placing in five categories. Senior Callahan Eckhardt placed 1st in role play and 2nd overall in Business Finance, senior Kylie Tennis placed 3rd in role play and 3rd overall in Human Resource Management and senior Hannah Hilton placed 2nd in testing in Buying and Merchandising Management.
There were 485 students from the greater Kansas City area at the competition, 14 of which were from Mill Valley. DECA sponsor Dianna Heffernon thought the competition was a good experience for the students.
"[The competition] was huge. It's a very big deal in Kansas City, and quite frankly, we were nervous [and very] anxious," Heffernon said. "It was a huge experience for us and they certainly know who Mill Valley is at this point. I think we got people's attention in a few areas and we're just going to go up from here. It was exciting to be a part of something so cool and do something for the first time at Mill Valley. We're the pioneers."
Human resources vice president Ellen Merrill was excited about the outcome of the competition.
"The competition was a lot bigger than we expected," Merrill said. "We were all a little nervous because we had never done it before, but as a whole we did very well. We even had a couple people win in their categories."
DECA will compete again in November and compete in the state competition in April.
"What we took away from the competition was that we can compete with big schools," Heffernon said. "This only the third year [that our marketing program] has been up and running and it's really exciting to think that we can compete after so little time. We only had DECA approved in September, so we just had about a month and a half to prepare. It was really neat. It was more than what we thought it would be."
(Visited 51 times, 1 visits today)