DECA competes at nationals
The team of five members traveled to Atlanta, Georgia to compete at the event
After qualifying in March, DECA competed in nationals over the weekend in Atlanta, Georgia, from Saturday, April 26 through Tuesday, April 26.
Senior Aneesa Ismail, DECA president, breaks down what each member of the group participated in at the event.
"We all do different things based on what we are competing in," Ismail said. "I competed in an individual series event. I took a marketing cluster exam and partook in 2 "roleplays" where I am given a real-world business problem having to do with my category, and I'm expected to present a solution to a judge. [Seniors Kennedy Yeoman, Bret Weber and Declan Taylor] competed against other school stores across the nation in a human resources unit. For months they prepared a presentation that talked about how our school store runs the human resources department. They received a gold level certification for the school store that allowed them to compete at nationals."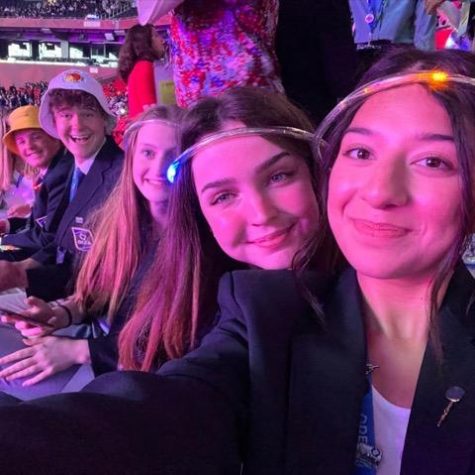 Sophomore Sofia Steinmetz also went to the event, and although she did not compete, she participated in a leadership academy known as IGNITE, which taught her many valuable skills.
"[During] the IGNITE academy I learned new techniques for DECA competitions," Steinmetz said. "I also learned how to become a better leader in my DECA chapter and beyond."
According to Ismail, the team enjoyed forming relationships with teams from around the world at the competition.
"[The team's] favorite thing collectively was being able to interact and create valuable relationships with the DECA students there from around the globe," Ismail said. "This year there were roughly 17,000 DECA students (a little over 10,000 less than usual) and being able to meet so many people made us really appreciate how large yet tightly knit our DECA community really is."
Steinmetz shares this sentiment and enjoyed interacting with others and making friends while participating in the IGNITE academy.
"I had a really great experience and made a lot of friends," Steinmetz said. "I met with three different instructors over two days, which consisted of lectures, interactive activities, and meeting new people."
Although the team did not make it to the finals, Ismail is proud of their performance.
"This year our team was small, but mighty," Ismail said. "We went in with our heads up high knowing the odds were small. We went into the competition and brought out our most competitive selves. When facing thousands of students and seeing teams as big as 130 DECA members, it can be intimidating, but we gave it our all and learned many valuable life skills."
(Visited 397 times, 1 visits today)