Cross country places first and second at Olathe Twilight Classic
The boys and girls varsity teams had six runners place in the top twenty
The cross country team competed against 21 other teams in the Olathe Twilight Classic Saturday, Sept. 14 at 7 p.m. The girls varsity team took first place in the meet, while the boys varsity team took second place.
First place runner in the girls varsity race, senior Morgan Koca, went into the race with the goal to perform her best and encourage her team.
"I wanted to be in the top five, and I wanted to push the pace for my team and hopefully get them all up close to us so we could hopefully win," Koca said.
Junior Molly Ricker believes that mental blocks greatly affect her running and was surprised by her strength during the race.
"I told myself to slow down and stop myself a lot, but I had a lot more energy at the end than I thought I did," Ricker said.
Boys varsity went into the race with the hopes of standing out from the other teams and bettering their race times, according to junior John Lehan.
"At these meets, our goal is to just race," Lehan said. "This meet specifically, the team wanted to make a statement so I wanted to improve on my time from the last meet to help us get there."
The Olathe Twilight Classic taught Lehan more about himself as a competitor and gave him insight into what the state competition will be like.
"[I learned that] I'm able to race with these guys, and the entire team as a whole is going to do really well at state," Lehan said.
Cross country competes next Saturday, Sept. 21 in the Baldwin Invitational.
(Visited 335 times, 1 visits today)
About the Writer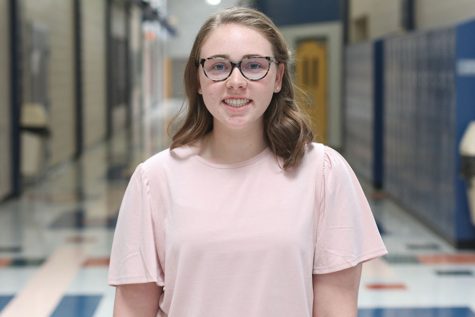 Kayla Brethauer, JAG reporter
This year is sophomore Kayla Brethauer's first year on the JAG yearbook staff as a writer. Outside of journalism, Kayla can be found practicing her French in the French Club and volunteering at the Monticello Library. In her free time, Kayla enjoys reading books, hanging out with her friends and exploring new places.