Construction begins on De Soto Panasonic battery plant
The new lithium-ion battery manufacturer facility plans to begin mass production by March 2025
Panasonic Energy, one of the global leaders in lithium-ion battery production, broke ground on the site of its new $4 billion facility in De Soto, Kansas Wednesday, Nov. 2. The ceremonial event celebrated the work that had already been done with erecting the EV battery plant. The plant is expected to be finished by March 2025 according to Panasonic Energy.
Panasonic will drive significant economic activity for Kansas, making the state a key player in the electric vehicle industry.  The facility will be located at the Astra Enterprise Park site and will make the location a key economic player for the region. Excavation work is already underway.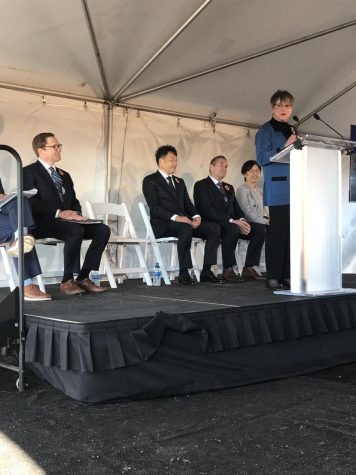 According to an article by Panasonic Energy, De Soto Mayor Rick Walker sees the new plant facility as an opportunity to form a robust relationship with the city's economic chamber to bring about a wide stretch of new opportunities.
"The city of De Soto is thrilled to work with Panasonic and welcome them to our amazing community," Walker said in an interview. "De Soto has a rich history of supporting critical manufacturing facilities and we have been planning for this growth and return of advanced manufacturing jobs in this area for years."
According to superintendent Dr. Frank Harwood, Kansas' skilled manufacturing workforce, reliable infrastructure and central location in North America makes De Soto an ideal location for this facility.
"People don't necessarily grasp that the Sunflower Army Aviation Plant, where the Panasonic facility is being built, is 9,000 acres of undeveloped land," Harwood said. "Panasonic's plant is 300 acres so there's lots of room for more development."

Panasonic announced plans to come to De Soto to build their newest facility in July. USD232 school board president Ashley Spaulding is anxious to witness the opportunities Panasonic will bring to students.
"I'm very excited about the opportunities that our students are going to have in terms of our real world learning efforts in our district," Spaulding. "We've got a great real world learning program in our district where students have opportunities to have hands-on, interactive experiences with local businesses. Bringing an organization like Panasonic right to De Soto is going to be huge for our students."
Panasonic has a long track record of supporting the communities where it operates. As a first step in the company's new commitment to Kansas and the De Soto community, Panasonic made a $25,000 donation to USD 232 to support "educational opportunities." Harwood says the administration intends to direct the donation to support academic programming for students.
"With real world learning, what we're trying to do is that we'd like for every student that graduates to have what's called a market value asset," Harwood said. "One of those is an internship or client connected projects. One of the drawbacks we have currently is having enough capacity for someplace for all the students to go, so having a major employer that has a wide range of career opportunities within one company will be very beneficial for our students." 
Facility construction is focused on rapidly ramping up manufacture of "2170" cylindrical lithium-ion batteries to meet surging domestic EV battery demand according to Panasonic Energy.
The facility will maintain an annual total production capacity of approximately 30 gigawatts an hour to supply EV manufacturers across the United States.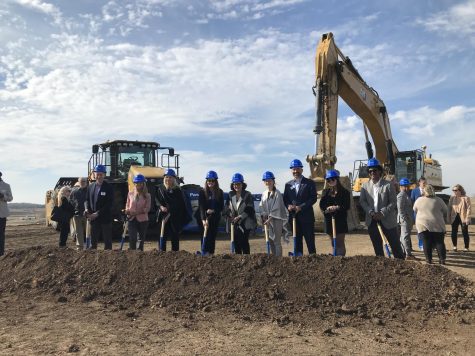 Panasonic's facility is expected to create up to 4,000 jobs; recruitment for the first positions will begin in mid-2023. Harwood states many ramifications need to be regarded when considering a population increase.
"The big thing with De Soto right now is that there's not the infrastructure in place to start just building hundreds of houses and apartment complexes," Harwood said. "Before that happens, they have to put in the sewers and the waterline, the roads and the curbs and the gutters. While they're doing that, we at the same time can be building schools." 
Drama teacher and De Soto native Jon Copeland predicts De Soto growing into a populous city like Shawnee.
"I can only guess what the new Panasonic plant will do," Copeland said. "But I assume that it will make development from the direction of the east have a boom. Lots more houses and business development going in along K-10 would be my guess. I think De Soto has already lost most of the small town feeling it had when I was a child, but hopefully it will maintain some of its small town charm."
Looking to the future, Harwood sees Panasonic as a revolutionary actor for academics and economics.
"All indications are that as a company, Panasonic really likes to be invested in the community and help the community grow," Harwood said. "They understand that schools are an integral part of their workforce development and they want to be a part of helping us be successful."
(Visited 852 times, 1 visits today)