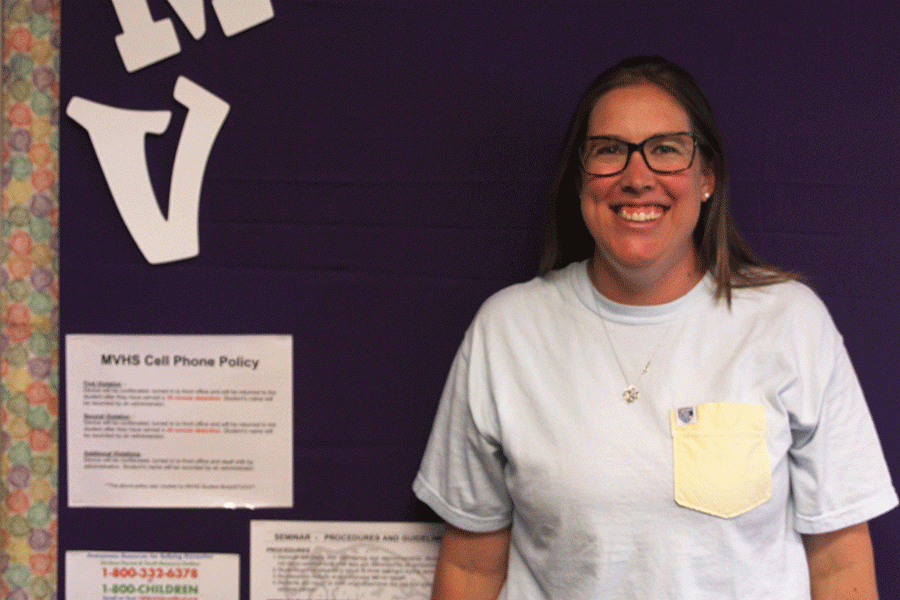 Communication arts teacher Nicole Porter
Q&A with communication arts teacher Nicole Porter
How long have you been teaching?
This will be my fourth year teaching. I originally taught at Leavenworth high school.
What grade are you teaching?
Nine and eleven.
What brought you to Mill Valley?
It's closer to home and I heard it was an awesome school.
Where did you grow up?
In Olathe.
When did you decide to become a teacher?
I've kind of always wanted to be a teacher when I was younger. I worked in college athletics for a while and I worked with kids in a camp. So, I decided to go back to school and become a teacher.
Why did you choose to teach high school students?
I like the age; they're not as crazy as the little ones. You can do so much more. The field trips are fun because the kids appreciate going. The conversations are nice and I like the content that I get to teach in high school. Overall, I just like the age group.
What do you hope to accomplish this year as a teacher?
Getting to know the students and traditions here at Mill Valley.  I want to be able to fit in with everyone. It will be a learning process I think, but we'll learn a little English too.
Where did you get your teaching degree?
I got my teaching degree from Emporia.
Why did you choose to teach English?
Ever since I was little I loved to read. I think that started it. Then I had an English teacher my sophomore year in high school that encouraged me to write more.
What is your favorite book?
I don't know that I have one favorite book. I do like "In Cold Blood", it takes place in Kansas. I do like "The Curious Incident of the Dog in the Night Time", It was written in the perspective of an autistic kid. It is very interesting.
What is your favorite hobby outside of school?
I go for walks, I read, I go to sporting events. I also make wreaths and craft with my mom. We make signs and paint furniture and do stuff like that.
How do you think you will interact with the other English teachers?
All of them seem like they're all friends. They collaborate, work together and do things together outside of school. I have already gone to lunch with them a couple of times. I don't think it is going to be very hard to become part of their department.
What can students expect from your class this upcoming year?
I have set expectations but I always like to have a good time in my class. [Students] learn a lot but I think they leave having a good time doing it.
What was your favorite part of high school?
Just the whole school spirit. Where I went to high school was big, so that was something I always remember. I think it's important and I heard it's great here.
(Visited 20 times, 1 visits today)