Staff editorial: Class Cup a positive idea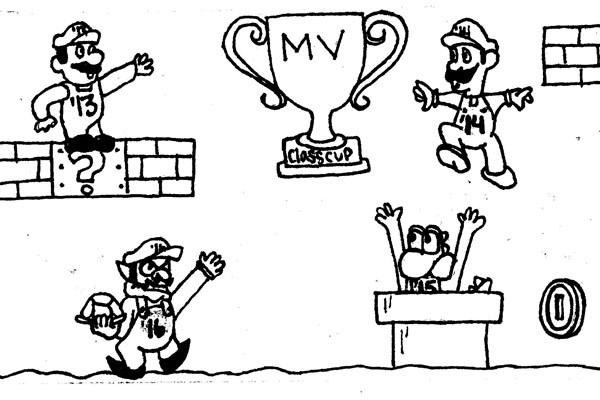 When the Student Leadership Team brainstormed ways to boost school spirit last year, members decided to implement a Class Cup competition. In the competition, each grade is awarded points for participating in different activities that help increase the school atmosphere. Among other things, points are given for attendance at extracurricular activities, participation in fundraisers and cleanliness in the lunchroom and locker banks.
Overall, we feel that this new implementation is a positive incentive that is beneficial to the school. It has the potential to truly change students' attitudes about our school and the surrounding atmosphere. Not only is this competition between classes a motivation for students to boost school spirit, but it also improves the overall school environment and gives students a reason to be excited to come to school.
Because the lunchroom and locker banks are being kept cleaner, administrators, teachers and janitors aren't forced to unnecessarily pick up after students. By encouraging students to attend extracurricular events, the competition allows individuals, such as soccer players or choir singers, a chance to get the recognition they deserve. It could bring many advantages to our school, including the ability to unite classes under the idea of 'friendly competition.'
But we want everyone to understand that this competition can't be taken to the point where it tears the school apart. It has to be used by the student body as a positive incentive to bring the school together. We need to understand that as a relatively young school compared to many of our neighboring schools, we are still working to create school traditions.
But we have to understand that this Class Cup can help create something at our school that could be sustained for years to come. If we want it to be a long-term success, we have to view the competition as a spark that could ignite the spirit at our school.
Despite the large positive impact this competition could have on our school, the reality is that not everything is perfect. There are juniors leaving piles of trash in the senior café, freshmen talking about how lame the competition is, and seniors griping about the juniors stealing their spotlight. And let's not forget about the sophomores who seem like they could not care less. But while these attitudes are oftentimes what are most prominent to others at the school, they aren't the majority. Most of the students at our school, believe it or not, support the Class Cup and the ideas behind it.
Even though there will always be people who criticize the school and act like they are above showing school spirit, no one can deny that they want to be a part of a school with pride. We all want to be in the gym during a pep assembly full of loud, enthusiastic students. Even if you aren't a fan of the specific team, it is hard to deny the pull of the atmosphere in Allen Fieldhouse or Bill Snyder Family Stadium.
As much as we support the idea of healthy competition, as a school, we can't allow the rivalries to escalate to the point where they negatively divide us by classes. If they do, it's our fault. The administration can tell us to have more spirit all they want, but if we don't take pride in our school, it's our high school experience that gets lost. We need to remember that the overarching goal of the class competition is to come together as a school.
When we graduate as seniors, we want to be proud to be a Jaguar. We want to see our school colors everywhere we look, hear screaming fans in the stands at games and have pride in the place that we attended for four years. Regardless of where we go on to college, the fact that we all attend Mill Valley should be a uniting factor for the rest of our lives. Use this Class Cup competition to make that idea a reality.
(Visited 24 times, 1 visits today)