Boys defeat league rivals 71-41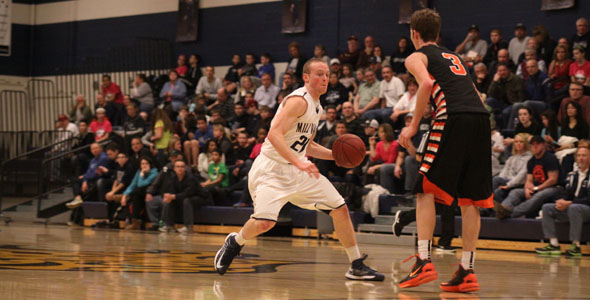 The Jaguars defeated their league rivals, the Bonner Springs High School Braves, at home 71-41 on Tuesday, Feb. 12.
Junior Wyatt Voorhes scored the first points of the game with a three-pointer, en route to a 9-0 start. The Braves were slow to add points but were fouled and made their first point via a free throw. The first quarter ended with a score of 17-8, Jaguars.
Voorhes said that this game had one of the most explosive first quarters he has ever seen.
"We've been having great practices lately, and we were really pumped for this game," Voorhes said. "We just came out with more intensity than they did, which helped us bury them early."
Senior Kyle Kain scored a three-pointer within a few seconds of the start of the second quarter. The Braves added five points within the next minute to bring the score to 22-13, Jaguars. Sophomore Patrick Muldoon added two points of his 12 from the night via a layup to bring the score to 24-13, Jaguars. The first half ended with a score of 37-16, Jaguars.
Junior Drew Boatwright was the breakout star of the night and contributed 18 points to the game, 12 of which were four three-pointers in a row during the third quarter. The third quarter ended with a score of 66-32, Jaguars.
The Braves added another nine points in the fourth quarter and the game ended with a final score of 71-41.
Senior Nathan Stacy compiled 14 points and 13 rebounds while Muldoon added 12 points and Voorhes and Kain added 10 apiece.
The Jaguars next game is at home against Lansing High School on Friday, Feb. 15 at 7 p.m.
(Visited 10 times, 1 visits today)
About the Writer
Alana Flinn, JagWire editor-in-chief
Alana Flinn is a third year staffer who is looking forward to a year full of new experiences. As editor-in-chief, Flinn hopes to finally win a Pacemaker for Mill Valley News while maintaining the quality of JagWire. She will also continue to report on her favorite sport, football. Flinn's favorite quote is: "Every person you meet, every single one, is looking for their story. There are no exceptions. You become part of it by how you treat them."...