Bowling team concludes season at state competition
Junior Bri Laluk and sophomore Carsyn Turpin headed to North Rock Lanes in Wichita for their state meet
Schools from all over Kansas gathered in Wichita on Friday, March 1 for their final competition of the season.  The meet consists of three games that are added up to create a series score to determine the athlete's overall placement. Laluk achieved a series score of 485 with a game high of 180 and Turpin had a series score of 414 with a high of 162.
According to junior Bri Laluk, the conditions at the bowling alley were not ideal.
"At state, I did not bowl as well as I would have liked, especially considering some of my previous meet scores,"  Laluk said. "But with an oil pattern I am not familiar with, I believe I did the best I could have."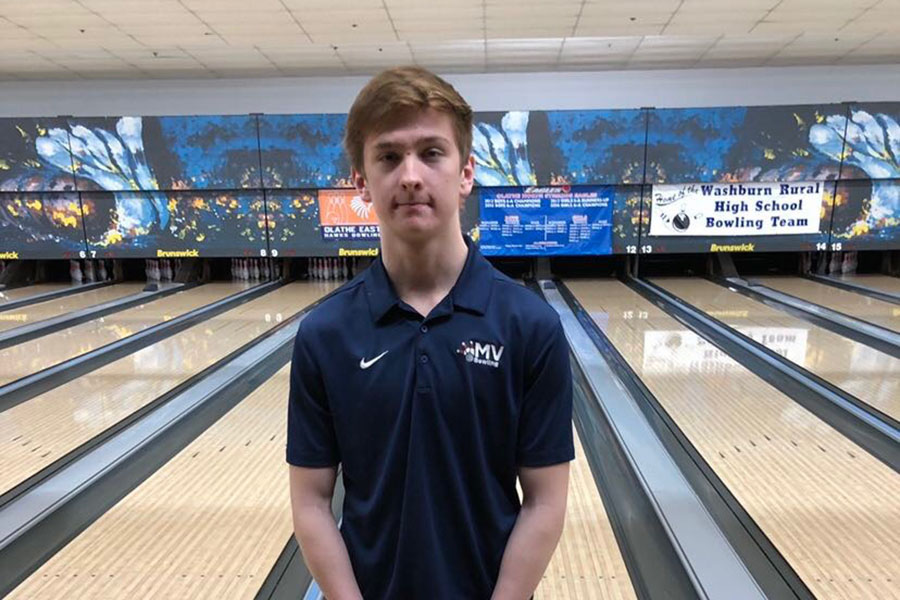 For sophomore Carsyn Turpin, state taught a variety of skills he would not have learned in the competition season.
"Honestly, the best part about state was being around super good bowlers who are better than standard competitors," Turpin said. "It helps me to learn how they react in certain situations and how I could possibly use their techniques to improve myself."
Through months of preparation leading up to state, Laluk believes that the season went well overall.
"Looking back on the season, I believe as a team we did really well and we worked really hard to achieve our goals," Laluk said.  "Through practice after school and on my own time … I believe I was able to reach my goal of improving my averages from my past years."
Turpin believes that this experience and preparation was much different from normal meets.
"I was interested to see how I would do at state with all of the pressure and how different it is than most other meets," Turpin said. "I prepared by trying to not overthink it as much as possible and treat it almost as if it was just another meet, even though I was probably trying a lot harder than I did the whole season."
(Visited 188 times, 1 visits today)