Black Dog Coffeehouse and IBIS Bakery offer locally-sourced goods
The duo is located on 87th Street and Rosehill Road and features a Kansas City-esque atmosphere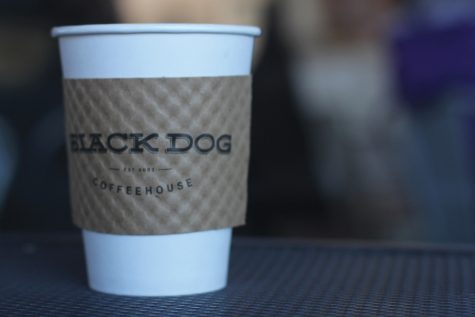 By Marah Shulda
As you watch the crowded room slip past each other while holding their handcrafted espresso drinks and freshly baked bread to rush to find an empty table, which are scarce, you know you're in for a treat. The aesthetically-pleasing earthy tones of Black Dog Coffeehouse are a stark contrast to the white walls of IBIS Bakery, and yet it seems that the combination is nothing short of perfect. I frequent the cafe at least once a week, if not more, so I decided it's finally time to let my love be known.

The whole atmosphere is welcoming and inviting due to the wide variety of individuals, from serious-looking businessmen to families utilizing the board games available to high school students just like me. Beyond the setting, though, are the numerous menu items. On Black Dog's part there are the basic drip coffees and other handcrafted caffeine drinks, but there are also teas and flavored lemonades for the non-coffee drinking individual. For IBIS, there are breakfast, lunch and dinner menus for actual meals, a pastry case for those looking for a light snack and their most famous menu item: bread. There are nine types available and they can be sliced for an individual serving, or if you get there early enough, you can purchase a loaf before they sell out.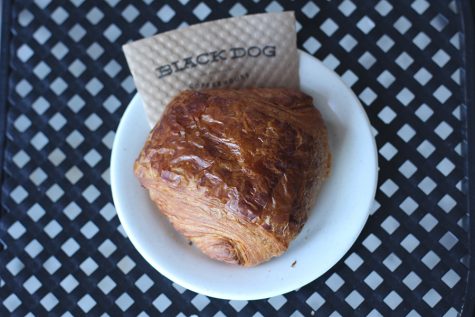 By Marah Shulda
My order is usually a warm 16 ounce chai tea latte because, unlike most places, the perfect blend of spices are noticeable and
consist of more than just cinnamon, (I'm looking at you, Starbucks.) Although, if I'm feeling a change, I might order a 16 ounce Shatto Mocha, which is a chocolate lovers dream as it's made like a regular mocha, but with chocolate milk.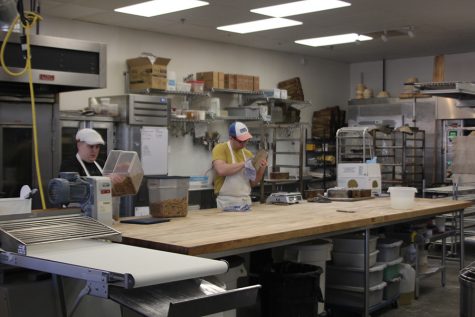 By Marah Shulda
As far as food, one of the coolest features of IBIS is that if you 
head over in the morning or early afternoon, you can watch them bake the variety of pastries and the loaves of bread they're known for. I usually stick with a croissant, but I alternate between the three flavors offered: original, chocolate or almond. I've never ordered something from Ibis that I've absolutely hated, however, I've ordered a slice of country toast that wasn't my favorite because the peach jam was just a bit too tart for my taste.
Despite the many delicious menu items, my favorite thing about Black Dog and IBIS is their commitment to being and remaining a local business. All of their ingredients and goods are locally-sourced from over 15 businesses in the area, and they are truly the epitome of Kansas City pride. If you're looking to support local businesses and get a reward for it, look no further than Black Dog Coffeehouse and IBIS Bakery.
(Visited 203 times, 1 visits today)