Behind the scenes of What's Happening Now
Creators senior Jack Mahoney and junior Bennett Doyle and advisor Dorothy Swafford describe the production process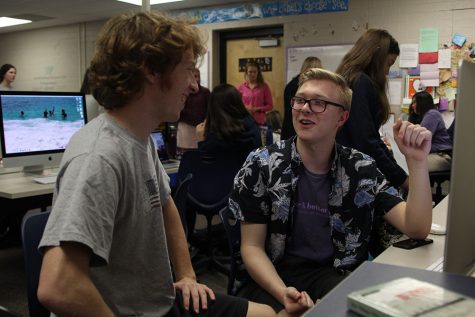 JagWire: Describe the planning process.
Jack Mahoney: "The planning period usually happens the Monday before we film, but we plan jokes that we can use throughout the week. Then we'll write summaries of the news stories and fuse them."
Bennett Doyle: "We look up some current events that happened from the past two weeks or so, and make a script. Then, we pick a day to meet up that we can both go to and film."
JW: Describe the filming process.
JM: "The hardest part of doing What's Happening Now is keeping it timely … In order to do that, we have to film it as late as possible to make sure we get all the good news stories."
BD:  "We finally start filming and it's a  fun time with lots of laughs and jokes. Neither of us are very good at saying full sentences, we have to redo lines a lot because we memorize them all."
JW: Describe the editing process.
JM: "The editing process is hectic because we're supposed to have it done the next day. It's a lot of rushing, but we plan it well enough that we can just drag the clips in … so it's not that bad"
BD:  "[Editing] is pretty time-consuming, I would say more than most other MVTV packages because it's a lot more editing to make the jokes rather than just adding music."
JW: What do you look for when approving packages?
Dorothy Swafford: "I look for quality, composition like the angles and styles of the shots, how well they tell the story, how well the footage supports the story visually and if the total package is just pleasing to the student's eyes. I want it to be something they can identify with; some things may not be identifiable in my world, but [students] seem to really like, so I can appreciate that. The story needs to be good and travel well visually."
JW: What was the inspiration for What's Happening Now?
JM: I stole what 60 minutes does and compressed it down instead into 60 seconds. Bennett was my little last year, so as his mentor we had to do our first project together.
BD: Jack Mahoney came up with the idea and he brought me in to help make it and mentor me.
JW: What's your favorite part about working with Bennett?
JM: It's unique in that we're able to put so much of our personality in it, Bennett and I have very big personalities.
JW: What's your favorite part about working with Jack?
BD: Jack's really funny and I feel like we have a good bond where we mesh well together. We're not exact opposites or exactly alike, so bonding is easy.
JW: What's the funniest idea you guys have come up with?
JM: The recurring joke where I'm dead and then I was brought back to life for the Halloween episode this year after I was struck by lightning.
BD: Our Halloween episode was the best episode. It's my favorite one that we've made because it's really funny. The intro is so dumb, but it's really good.
JW: What has the reaction been from students?
JM: The reaction has been more positive than I've ever expected. Not to be braggadocious, but people sometimes say to me that it's their favorite part of MVTV and they're excited to see it.
BD: I've heard people scream when it comes on. From what I've heard, most people like it. If they didn't like it, they probably wouldn't tell me to my face, but I think most people like it.
(Visited 120 times, 1 visits today)