B&B updates theater in hopes of more business
B&B remodels Westglen theater to attract customers and bring facilities up to date
The B&B theater company recently renovated the Shawnee 18 theater off Midland Drive, beginning in September and re-opening for business on Thursday, Nov. 17. The changes were implemented in order to modernize the theater and attract more business to the area.
B&B bought out Dickinson theaters in October 2014 and are now hoping to modernize this theater like the others in the chain. Eleven of the 18 individual theaters are not being worked on, but the theaters being renovated have had their walls and ceilings redone, as well as all of the technology being updated.
Even though the theater has reopened, the renovations are not completed yet. Manager Zach Poorman said renovations are still happening in order to get the theater back in working order for the biggest time of the year.
"We are waiting to get those [theaters] done til after the holidays [since] there is not enough time to get [the renovations] done," Poorman said. "We don't want to be closed for the holidays."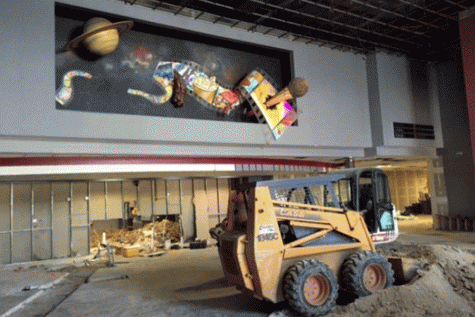 Thanks to the renovations, the theater has received a new interior look, including new concessions area with a full kitchen, a bar, a new box office and reclining leather seats. Also, each individual theater after the renovations will have assigned seating.
"[The assigned seating] will be a little different getting used to, but it is only to ensure that people can come in and get the spot they want and encourage people to buy their tickets ahead of time and get here early to make sure everything goes smoothly," Poorman said.
In order to help fund the renovations, the B&B theater company received a grant from the city in an effort to bring life back to the area.
"As well as the money that B&B is putting into it, [the company] got a grant from the city as well to try and bring this area back up," Poorman said. "It is right off the highway so it is a prime location, and it is very visible from there as well."
Due to the changes, the hope is that the new look will bring more customers to the theater, resulting in extra staff members being hired, according to senior worker Ethan Doyle.
"Since the quality is nicer, we're projected to get twice as many people so that's why we need twice as many staff members as well," Doyle said.
Worker sophomore Alex Horton also believes that having a bigger workforce can only be a benefit with all of the changes.
"[Hiring more people] will be good because we were understaffed before and more people will help," Horton said. "Sometimes we would just get through it [before the changes], but it will be helpful because there are more areas to work in now with the kitchen and more floor people to help clean."
Poorman said a new system is projected to be implemented in which customers would be encouraged to purchase their tickets ahead of their arrival at the theater.
"[This is to] encourage people to buy their tickets ahead of time and get here early to make sure everything goes smoothly," Poorman said. "[The new additions are] to kind of streamline it and get it all done before you are even at the theater."
Freshman Sam Greenup, a former customer of Westglen, believes that the remodeling of the theater can help bring the theater to the standards of its competitors.
"It was … the theater to go to since it was just right down the street from my house," Greenup said. "It was OK, it didn't really stand up to what Cinemark is, but with this new renovation they probably should stand next to them."
Further renovations are being done to individual theaters as well. In theater seven, for example, Poorman explained how a stage theater is being installed for plays and musicals.
"We want to turn it into a musical theater like getting a stage in there and everything," Poorman said. "They can lower a movie screen in front of it when they are not using it for that. That way, they have another option to bring business in here as well."
Doyle believes that everyday work will be streamlined thanks to all of the new changes.
"It will be different because we'll have self-serving soda fountains and candy that you can grab," Doyle said. "Then, [customers] just bring it up to us and it makes [the whole process] more efficient."
Overall, Poorman thinks that the renovations will bring B&B on par with competing businesses.
"A lot of the main complaints we get here is that it is … outdated and it is a little old," Poorman said. "We are hoping that … having a nicer building and equipment as well as just the way we run things will help [us] work well against our competitors."
(Visited 131 times, 1 visits today)