Bands earn highest ratings in modified state music contest
Restrictions required bands to submit video recordings of their contest pieces instead of performing live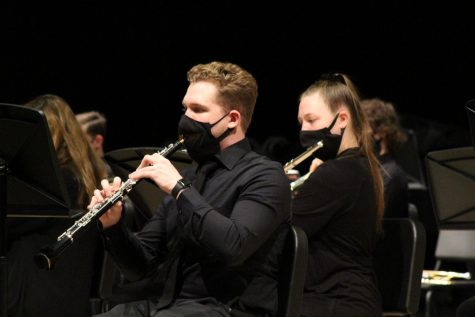 This past week, the concert and symphonic bands met, performed and recorded a song each to send to be evaluated by judges.
"The experience was a lot of fun. I think being able to play and get a good score makes everything worth it," junior Ashley Atkinson said. "I feel like our band did really well during our recordings."
The bands presented to the judges are ranked upon a scale of one to five, with one being the best; band director Debra Steiner explained the grading scale further. 
"If we ever get a five, I should be fired," Steiner said. "The judges have a rubric and score us on a point system. The maximum amount of points is 80. I think both bands did really well this year despite all the adversity we have faced."
Atkinson feels that the band did well during the recordings and hopes for a high ranking, especially despite the adversity.
"I'm hoping we get a one or a two because we always put in a lot of work to make our music sound as great as we can. I feel like even though this year was different, we were still able to put out some of our best work," she said.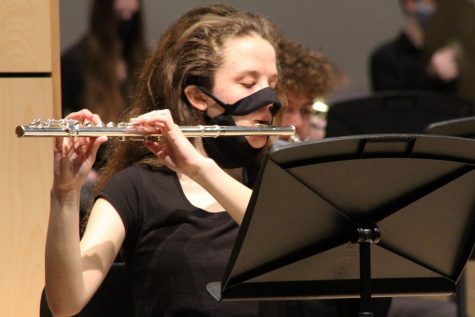 One of the points of adversity was the usage of slit masks while playing. Atkinson also explained the difficulties that came with playing with them and how they affected her performance. 
"I feel like the slit masks kind of get in the way with playing. I probably would have performed better without a slit mask, but I want to make sure that everyone is safe and I'm fine with putting up with them until things get resolved," she said. "They're very different because no one is used to playing with something covering half of your face, but we're all slowly adjusting. 
Originally, the recordings were set to be held after school early in the week; however, with many band members having conflicts, adjustments were made. Steiner explained.
"The recording was moved due to participation in sports.  We were having problems finding an evening where there was not a practice or game," she said. "Unfortunately Symphonic Band did not get a chance to record during class. We had key players in quarantine and had to take a recording from an early rehearsal."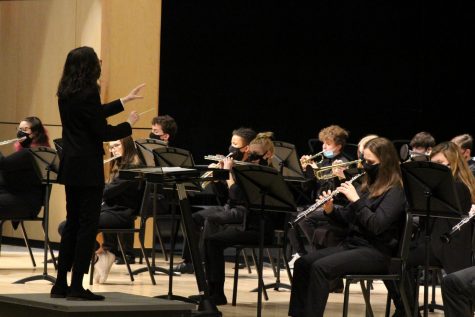 However, Steiner found the experience to be stressful. Through the challenges, she wanted the best for her students and believed that they worked hard to overcome them.
"I would say no this was not a fun experience. Unfortunately, I have the mindset that you can always make a recording perfect because you can redo it. Although this is unrealistic, most performances have minor defects no matter how good they are. I wanted them to be perfect," she said. "This is something I just needed to let go but I just wanted the best for the students, they worked so hard this year."
(Visited 49 times, 1 visits today)
About the Contributors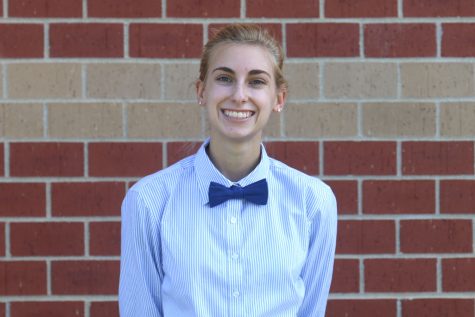 Ellie Basgall, JAG reporter/photographer
This is junior Ellie Basgall's first year on the JAG yearbook staff. She will be undertaking the position of writer this year. When she is not typing away, she can be found marching with the band out on the football field, playing the flute in the band room or serving as a student ambassador. Outside of school, she enjoys creative writing, reading and playing the violin in her church's youth symphony orchestra.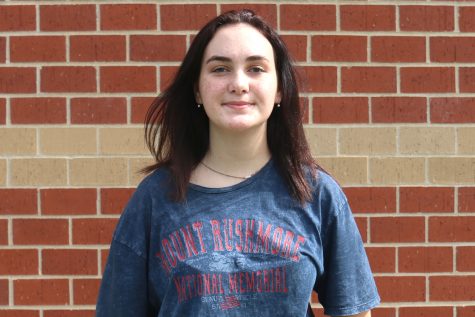 Lauren Cannata, JAG reporter/photographer
This is junior Lauren Cannata's first year on the JAG yearbook staff. She will be working as a writer on the staff this year. Lauren is also involved in managing the C-team, JV and varsity soccer teams for the school. Outside of school, Lauren enjoys painting, binging crime shows and hanging out with friends.