Art show returns to Country Club Bank
The art department hosted the event at the Country Club Bank Monday, April 11 to Saturday, April 16 for students to showcase their projects
The annual art show, which returned to Country Club Bank this year, gives students an opportunity to showcase the artwork they have been working on. Art teacher Jodi Ellis shares why this event is important for her and the students. 
"It makes art a little bit more important to students. The idea is to bring people in a more formal evening with food and invitations. It's also outside of the school," Ellis said. "It's nice for the students to get early recognition. Sometimes people are interested in purchasing artwork."
Having the art show lets the students get recognition for the hard work they put in. It also gives them a creative outlet. Ellis explains why they take students to see the art. 
"We try to take the students up to view the artwork. Some of the students that did not get artwork in the show might realize that this is a possibility," Ellis said. "Anytime you see another person's work that is thought provoking, it does inspire kids to be more creative. It makes them consider what they can do."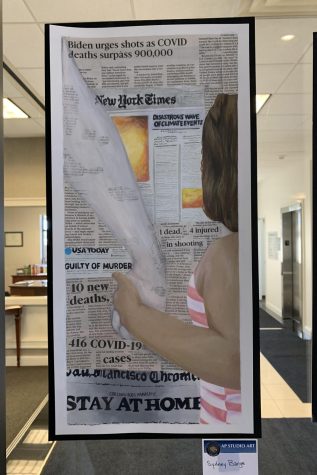 The art show gave junior Sydney Barge an opportunity to show off what she has been working on. 
"It is important to me because it gives artists an opportunity to share their hard work and their different art styles," Barge said. "My artwork in the show is my AP Studio Art portfolio which are paintings that I have been working on. I was excited for others to see them."
A lot of Barge's artwork is based on personal events and feelings. Art allows her to communicate with others through her painting. 
"My portfolio follows grief and loss so my paintings are of a variety of things revolving around that," Barge said. "I came up with this idea through personal experience and it altered my life. It gives me an opportunity to communicate with others about the meaning of my art."
In addition to recognizing the hard work of students, Ellis notes that the show also helps to motivate the artistic abilities and ideas of the students who attend.
"I hope this inspires artists and gives them creative ideas for their next project." Ellis said. "The whole idea of this art show is to give these creative students a chance to show off what they have been working on."
(Visited 63 times, 1 visits today)