Wrestling team places 3rd at state tournament
The wrestling team earned 3rd place at the state tournament in Wichita on Friday Feb. 26 and Saturday Feb. 27
The wrestling team earned third place at the state tournament at Hartman Arena in Wichita on Friday, Feb. 26 and Saturday, Feb. 27. The team had several individual placings: junior Dylan Gowin placed 3rd, senior Peyton Bendure placed 3rd, sophomore Conner Ward placed 2nd, senior Seth Burnett placed 5th and sophomore Jarrett Bendure placed 3rd.
"It was awesome, every single one of them were all down at some point in the tournament and battled back," coach Andrew Hudgins said. "You don't get a medal here unless you compete your butt off and that's exactly what they did, I'm really proud of them for those efforts. We came out here and laid it all on the line."
Despite getting third, Jarrett was happy with the outcome of the tournament and thinks the team worked hard to get there.
"Our team did really great, there are some really good guys who have trained all year round and it helped a lot," Jarrett said. "We've just been focused on our goals and been getting to them, we came a bit short but were happy with third and we will just train for next year. It felt pretty good but my goal for next year is to get first."
According to Gowin, competing in more advanced tournaments helped in preparing the team for state.
"This year we were all focusing on winning state titles, we do what it takes to win," Gowin said. "We go to the toughest tournaments around and we see the toughest competition we can, It helps us get better and helps us win."
Hudgins believes that in order to make it to state, the team had to stay driven throughout the season.
"A lot of them work for this year round, there are probably 4 or 5 of them that work all year in the summer and fall," Hudgins said. "The winter season is just a long season in general with winter break there and it kind of drags on, they have to stay really focused and keep their work ethic up and they do a great job of that."
As a team, always striving for improvement is something Hudgins attributes to their success.
"You can always find something to get better at in this sport and that's one the aspects to a wrestling match, you can tell they've taken that on and that's why we are where we are as a team, taking trophies two years in a row. That's the exact mentality that's gotten us here," Hudgins said. "Were competing with teams that are historically the best teams in the state for the last 30 and 40 years."
Gowin and Jarret both appreciate the support of the students and parents and think it has contributed to the team's success.
"Having the spirit bus here was great and having people here to cheer you on, we have so much motivation behind us," Gowin said. "If we're down in a match we have people cheering us on and helping us win."
"The support is really good, Mill Valley is known for the best student section," Jarret said. "We have had a lot of support over the years and I'm happy to be a part of it,"
(Visited 17 times, 1 visits today)
About the Contributors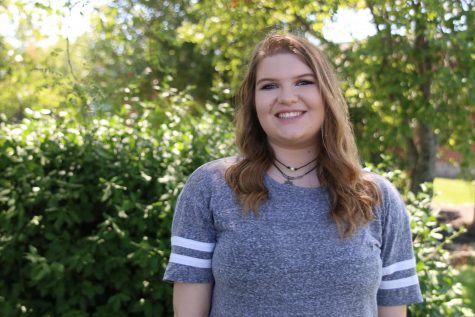 Lauren Ocker, JAG editor-in-chief
As she enters her senior and third year on the JAG yearbook staff, Lauren Ocker will be taking on the position of editor-in-chief. Other than yearbook, Lauren works in The Catty Shack and competes in the school's DECA chapter. Outside of school, Lauren enjoys hammocking, binge-watching Netflix and talking about the Obamas.

Morgan Nelson, JAG photographer
Senior Morgan Nelson is a co-photo editor on the JAG yearbook staff. This is her second year on staff. Aside from journalism, Nelson serves as secretary of NHS, plays on the girls tennis team and is involved with Student Ambassadors. Most of her spare time is spent serving with her church, binge-watching "The Office" or listening to Ben Rector on repeat.