Wrestling team beats Shawnee Heights High School 43-36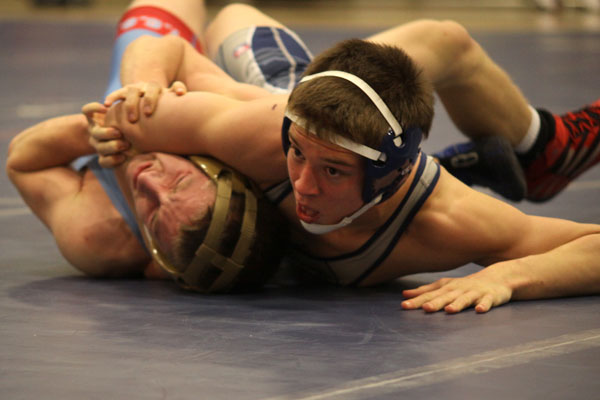 Competing at home for the first time this season, the varsity wrestling team beat Shawnee Heights High School 43-36 on Wednesday, Jan. 18.
The first seven matches were won by the Jaguars. Freshman Bryan Burnett, sophomores Landon Scott, CJ Beran, Daniel Gray, Tyler Dickman and Jake Ellis, and senior Christian Service all won their matches, putting the Jags up 37-0.
Dickman was pleased with the team's performance at home.
"I think everyone performed well and gave their best effort," Dickman said. "I like home meets because of all the people in the stands."
The following six match-ups were all won by the Thunderbirds, bringing their team score up to 36 with only one match remaining.
The Jaguars were ahead 37-36 when senior Zach Callahan stepped up to wrestle his opponent as the last match of the tournament. Callahan's decisive victory allowed the Jaguars to stay ahead of their opponent.
Although every person competes individually, Dickman sees the team's success against Shawnee Heights as a team effort and recognizes the improvement the team has made since last season.
"[Shawnee Heights] beat us really bad last year so we were happy to do better this year," Dickman said. "There are individual performances but ultimately it's a team sport. Coach expects everyone to do well, so it's not just individual."
(Visited 32 times, 1 visits today)
About the Writer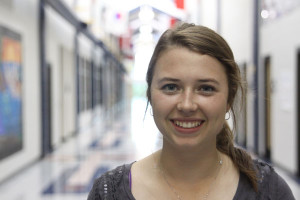 Hanna Torline, editor-in-chief
This is Hanna Torline's third year as a member of the JagWire staff. As a senior, she is involved in journalism, jagPRIDE, NHS, StuCo, Club 121, student leadership team, debate, girls golf and student ambassadors. Her favorite quote is from Mark Twain: "The difference between the right word and the almost right word is the difference between lightning and a lightning bug."