Wrestling places third at state competition
Team placing is the highest in school history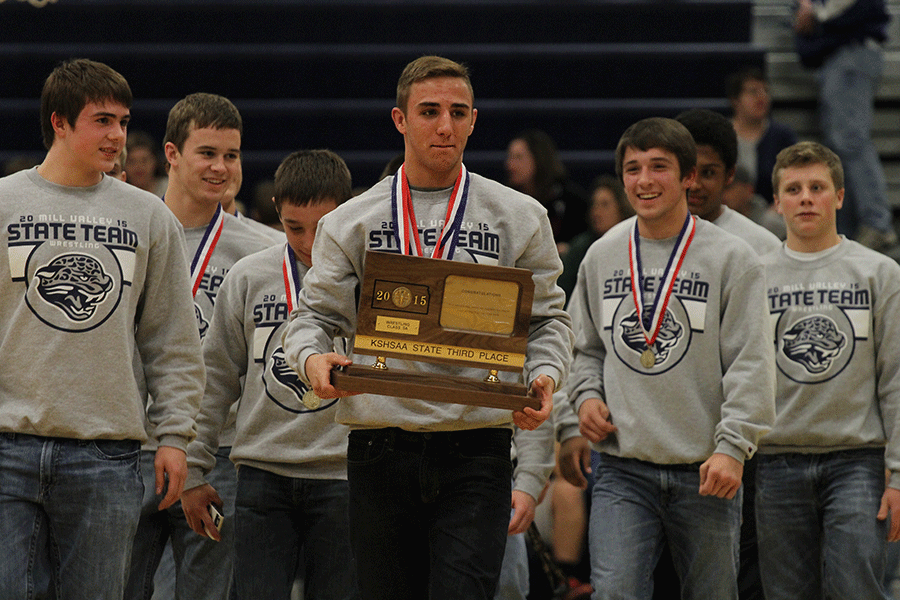 The wrestling team traveled to the Hartman Arena in Park City, Kan. for the 5A state competition on Friday, Feb. 27 and Saturday, Feb. 28, bringing home third place overall, the highest team placing in school history. The team finished behind Goddard High School and St. James Academy.
Sophomore Jett Bendure was pleased with his overall result of fifth place and how his individual matches went during state.
"My matches went really well," Bendure said. "A couple of them didn't work out like I planned, but all of them went well."
According to Bendure, the competition was worth the nearly three hour drive.
"[State] went really well and we had a lot of fun," Bendure said. "It took awhile to get down there, but it was really worth it."
According to Sophomore Dylan Gowin, his matches went well until the last match against a wrestler from Valley Center High School.
"My individual matches went pretty well until my final match which I did fairly well in until the very end," Gowin said. "I gave up some moves, but I can't take that back now."
Bendure claimed the team was excited about bringing home the state title.
"[Getting the title] felt really good, we all felt really accomplished," Bendure said. "All our hard work that we put into [the season] really paid off and it's something that no one here has ever done so I felt pretty good about that."
The results from state are as followed:
Sophomore Dylan Gowin with second in the 106 weight class.
Freshman Conner Ward with second in the 113 weight class.
Senior Logan Marx with second in the 138 weight class.
Senior Bryan Burnett with second in the 152 weight class
Sophomore Jett Bendure with fifth in the 120 weight class.
Junior Seth Burnett with fifth in the 170 weight class.
Freshman Hayden Keopke with sixth in the 145 weight class.
(Visited 31 times, 1 visits today)