Wrestling coach Travis Keal retires from coaching
After 22 years of coaching wrestling, Keal decided to retire to spend more time with family
After 26 years of being a wrestling coach, PE teacher Travis Keal has decided to step down from his position. His career as a wrestling coach will come to an end after his 22 years as head coach at Mill Valley, three years at De Soto, and one year assistant coaching at Wichita, but he will still continue to teach.
Travis announced his retirement following the 2022 state wrestling tournament. He decided to retire because he was beginning to miss out on some important moments, such as spending time with his daughter, Maryn Keal, a sophomore at Olathe West, and watching his twin sons wrestle in college. Austin Keal is a freshman at the University of Arkansas Little Rock and wrestles as a redshirt, and Zach Keal is a freshman at United States Military Academy at West Point also wrestling, both at the D1 level after graduating from Mill Valley in the 2020-2021 school year. 
"It's just time to give up something I love to be around the people I love," Travis said.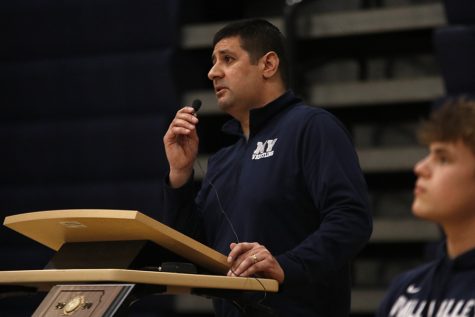 Throughout his coaching career, Travis has been recognized for many accomplishments. He was Kansas Officials Coach of the year in 2010, 2017, and 2020; NFHS Sectional Coach of the Year and KCA Coach of the Year in 2011 and 2020; Regional Coach of the Year in 2006, 2014, 2015, 2016, 2020 and 2021; and KWCA Coach of the Year in 2015, 2018, and 2020. He has helped lead his teams to seven regional championships and five league team championships. Finally, he coached his team to the 2020 6A state championship and third in 5A state in 2015, 2016, and 2021.
Austin felt that his dad not only set up his players to be great athletes but also set them up for future success in life.
"Aside from his wrestling achievements, Coach Keal has produced great young men.
Coach Keal's athletes have gone on to attend some of the country's best schools and achieve great things. Multiple athletes have gone on to attend Military Academies and Ivy league
Schools. Coach Keal's athletes continue to do remarkable things,'' Austin said.
Travis had many goals when coming into his role as wrestling coach. These goals reflected his compassion and dedication to the sport and the athletes involved.
"I have a yellow piece of paper on my desk from 2000. It's a sticky note that had my goals on it and it was to build athletes' character and build a championship program daily, coach all my athletes and win state championships," Travis said. "It's still pinned to my desk, so I'm glad it all worked out and I am very grateful for that opportunity."

As Austin grew up in this Mill Valley wrestling program, he saw every aspect that was put into creating great athletes.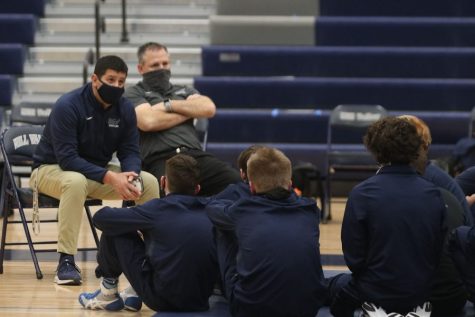 "I got to witness Coach Keal engrain key values into the program that Mill Valley came to be known for. We were known for pushing the pace, hustling back to the center, staying in good position, and just being all around tough," Austin said. "When putting on the Mill Valley singlet you were expected to go out and fight every time, no matter what. Coach Keal's expectations went beyond the mat. You were expected to be successful everywhere, especially the classroom."
Junior Eddie Hughart, a three-year wrestler, shared that Keal has taught him some valuable skills throughout his wrestling career. 
"I feel pretty sad about Keal's retirement," Hughart said. "He has taught me how to be a better man, and how to never give up even when your body is telling you you can't go on any longer."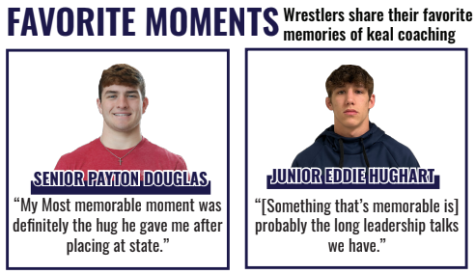 The community of support and motivation that has been created through the wrestling program is what Travis considers to be his biggest takeaway from coaching. Whether it be students, parents, or other teachers, Travis said that he has built strong relationships with all of them, and receives many positive messages. 
"People here push me to be my best self," Travis said. "I always stay motivated…trying to get b
etter as a coach, as a person, as a husband, as a dad, and as a teacher."  
A notable takeaway of Travis' coaching over the years is that he acknowledges his athletes for more than just their performance when competing, but also what they are learning from the sport.
"It's really not about wins and losses, it's about how they grow as a person and as a student it really changes their lives and when you see that transformation, I'll miss that," Travis said.
(Visited 711 times, 1 visits today)