Wordle trend challenges students' vocabulary and problem-solving skills
Students have been enjoying The New York Times' newest mini game, Wordle
Recently students have been raving over The New York Times' newest edition to the mini-games offered on the website, Wordle. Created by a software engineer from Brooklyn, John Wardle, the game was originally meant to be a love letter for his word game obsessed girlfriend.
After the release of Wordle in October 2021 during the pandemic, it quickly gained traction. The game offers players six chances to guess a five-letter word, telling them what letters they have correct, wrong and in the right spot with a new word being introduced every day.
One of the most appealing aspects is the ability to show off your skills with friends and family, according to senior Carly Knight.
"Every day before school I do the Wordle and send it to my family," Knight said. "We also will likely talk about it once it is done. When I play the game I first try to get some consonants, the most common ones being R, S, T, L and N and then from there you could guess words like AUDIO to try and get some vowels."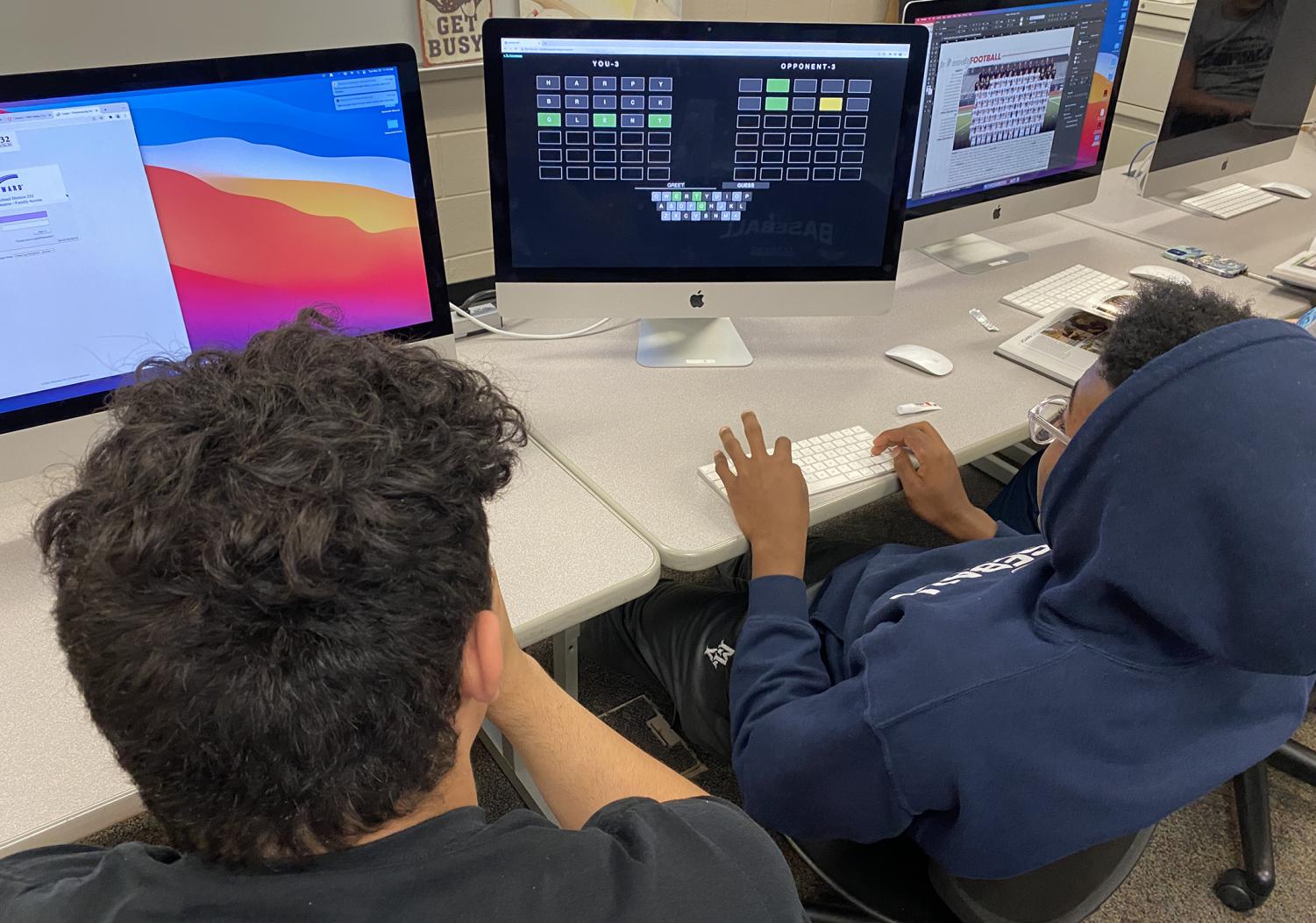 Knight is not the only one strategizing tactics and incorporating Wordle into their daily routine. Senior Alyssa Canning believes she has become somewhat addicted.
"Sometimes I wish Wordle was more than a 'one a day' thing. It's become a part of my daily routine," Canning said. "I always ask my friends 'have you played the Wordle yet.'"
Corresponding with Canning being swept up by the game, sophomore Davion Harris enjoys playing with his friends.
"Every day we play it in seminar," Harris said. "After we solve it we bring up the times we have used the words, and if we don't know them, we look them up, laugh, and discuss what it reminds us of."
Conversations about Wordle are circulating quickly, and students are drawn to the game from all kinds of sources, similarly to how Knight was.
"I first heard about Wordle from TikTok. People posted their strategies and experiences with the game. I started playing Wordle with my family soon after," Knight said. "I like that every day there is a puzzle. Everyone has the same word so it is interesting to see how people played the game. It's also interesting to see what words they use and sometimes I get to learn a new word."
It is not just social media catching the attention of students, it also stems from challenging one another as seen by Harris.
"I saw sophomore Reid Grier playing in seminar one day," Harris said. "We've been competing every day since."
Overall, the game is definitely worth a try, according to Canning.
"I don't typically like video games. Wordle is a challenge and it's fun to see what the word of the day is," Canning said. "Almost all of my friends play it. I think it's super trendy and a fun challenge for a lot of people."
(Visited 278 times, 1 visits today)