Winter Storm Q brings two snow days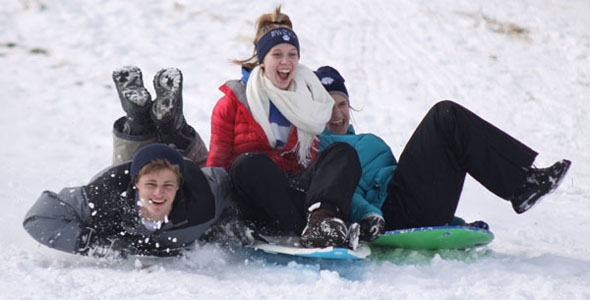 Mackenzie Eckman, JagWire a&e editor
February 24, 2013
Winter Storm Q hit Kansas City on Thursday, Feb. 21 and Friday, Feb. 22, cancelling school for various districts across the metro area.
Most of Q's wrath was felt Thursday morning, as high winds and near whiteout conditions shut down many businesses. Despite the massive snow totals, sophomore Matt Butko braved the slippery conditions to make use of his days off.
"I went sledding and night sledding at Stump Park," Butko said. "There were tons of people but it was fun."
With another winter storm headed towards the Kansas City area, senior Kayla Hamner is neutral as to her feelings about having a snow day on Monday, Feb. 25.
"Snow day or not is fine," Hamner said. "There are ups and downs to both and there's a better chance of us getting out on Tuesday [Feb. 26] anyways. I haven't been able to be as active as I would like [over the snow days], which is especially hard because soccer tryouts start tomorrow. Other than that, the snow days have been fine with me because the senior schedule won't change."
According to Director of Administrative Services and Community Relations Alvie Cater, the calendar will not be changed until the allotted number of snow days has been exceeded.
"We have used three of the four emergency closure days that we have built into the calendar," Cater said. "If we use five or more, then the Superintendent's Cabinet will examine the remainder of the school year to determine options. The board of education will need to approve any changes we make to the calendar."
Senior Joey Perkins predicted the snow days last Wednesday, Feb. 20 on Twitter and feels confident that the district will call off school for one more day.
"[Last week,] I heard from friends that it was supposed to snow, so I checked the forecast online," Perkins said. "After I saw it was six to 10 inches, I knew we wouldn't have school Thursday [Feb. 21]. I assumed we wouldn't have it Friday [Feb. 22] because there would still be snow and it seemed somewhat ridiculous to bring us back for one day of school before the weekend. As for the upcoming storm, I've heard varying reports. I doubt we'll have school tomorrow because I think [the snow] will start tonight, but it might start tomorrow night and then I think we'd get Tuesday [Feb. 26] off. Not both though."
For more information regarding athletic cancellations and reschedulings, please visit the Kansas State High School Activities Association's website.
(Visited 9 times, 1 visits today)