Winter Homecoming king and queen announced
Seniors Tyler Green and Anna Paden were crowned king and queen at halftime of basketball game on Friday, Jan. 10
During halftime of the Winter Homecoming basketball game, senior Tyler Green and Anna Paden were crowned king and queen on Friday, Jan. 10. 
Unfortunately, Paden was unable to accept her crown in person because she was at a thespians conference. As the king was first announced, Green cheerfully accepted his crown and described how he enjoyed being crowned winter homecoming king.
"[Getting crowned] felt really awesome," Green says. "Just being noticed by everyone, that's really nice. I just love everyone in the school."
Tyler Green and Anna Paden are your Winter Homecoming king and queen! pic.twitter.com/zqozjvQEp6

— Mill Valley News (@millvalleynews) January 11, 2020
Queen candidate, Morgan Koca was grateful for being nominated for Winter Homecoming queen.
"It was honestly a really humbling and really cool experience," Koca says. "It's a really cool feeling to know that your school picked you, and it made me feel really good."
Early that day, the school announced that the dance would be cancelled due to weather. Both candidates described their reaction to the news.
"I hope something changes and gets rescheduled," Green said. "I wasn't able to go because we had a wrestling tournament so if it gets rescheduled then maybe [I can]."
"I'm bummed that the dance got canceled but honestly I think that it's better that it got canceled then [everyone being] in a dangerous situation," Koca says. "I think people are still going to go on with everything just not go to the dance so it ended up working out for the best."
Even with a cancelled dance, Green and Koca reflect on their favorite parts of the spirit week and the best part of being nominated.
"[My favorite part of the week was] the pep assembly dances." Green says. "The dance was really awesome, and [senior] Abby Miller and I had a really good dance." 
"I think my favorite part was the pep assembly when we all did the dances." Koca said. "[Senior] Grant Frost and I had an '80s theme so we dressed up in all '80s attire and then we danced to 'Ice Ice Baby.' I thought it was really fun to make up a dance and perform it in front of the school."
(Visited 550 times, 1 visits today)
About the Writer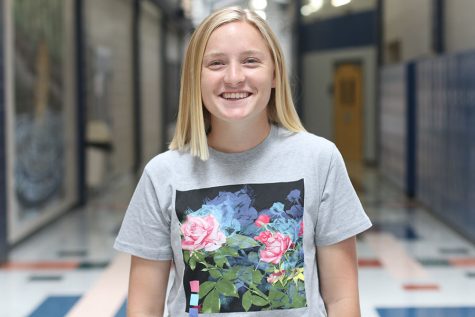 Anna Ricker, JAG assistant web editor
This is senior Anna Ricker's second year on the JAG yearbook staff. Anna is the assistant web editor and a photographer. She is also in the National English Honors Society, on the Mill Valley cross country and girls soccer team as well as the KC Fusion soccer club 01 girls academy team. She enjoys being outside, hanging out with her friends and dogs, doing DIY crafts and traveling.