Volleyball wins game against Lansing
The 21-4 volleyball team won their match against Lansing High School on Tuesday, Oct. 8. The Jaguars swept Lansing in all three of their sets with scores of 25-11, 25-21, and 25-17.
Senior right side hitter Alexis Crispin felt excited and motivated to be playing against Lansing.
"Lansing has always been one of my rivals since seventh grade, so you always get pumped for these games," Alexis said.
Sophomore  right side hitter Michaela Crispin was proud of her team even though their performance wasn't as good as it has been.
"It wasn't our best game, but we got stuff done," Michaela said.
Alexis really enjoyed the parts of the matches where her team's excitement was at the highest.
"I like it whenever our teams are super energetic  and in the middle [of the court] cheering,"Alexis said.
Michaela thought the energy that drove the Jaguars to a victory was the history between them and Lansing.
"They have always been our rivals," Michaela said. " It always feels good to beat teams we have lost to in the past."
Beating league rivals like Lansing are very important for the Jaguars to win The Kaw Valley League.
" We have two more matches [in league play] that we probably need to win the [KVL]," Alexis said.
(Visited 58 times, 1 visits today)
About the Writer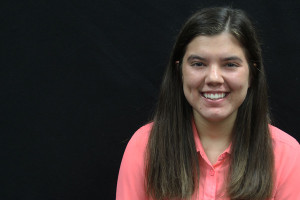 Erika Kringen, JagWire briefs editor
Sophomore Erika Kringen is a first year JagWire staff member. Kringen has been involved in many sports and activities since starting high school. She has ran track, cross country and plans to join the swim team in the spring. Erika Kringen is  in the musical , student ambassadors,and is a freshmen mentor this year. Kringen is looking forward to writing many stories and meeting new people while being a member of the JagWire staff.