Volleyball season ends after losses at state tournament
Lady Jaguars finish 31-7 after winning one game at state tournament on Friday, Nov. 1
The Lady Jaguars finished their season 31-7, on Friday, Nov. 1. at the 5A state volleyball tournament. Mill Valley finished the tournament with losses against St. James Academy Thunder and the St. Thomas Aquinas Saints. The team defeated the Bishop Carroll Golden Eagles.
Six seniors ended their career at state: Hannah Billings, Taylor Cowan, Alexis Crispin, Gabby Fangman, Abby Ford and Molly Oshinski.
The Jaguars lost to the Saints, 25-15, 25-23, in its first match (click here for a photo gallery from the match). The Jags had beaten Aquinas earlier in the season.
Billings believes that they could have played more competitively.
"We definitely did not play to our [full] potential, which was a little disappointing, and it was not one of our greatest matches," Billings said. "However, we picked it up the second game and played better … which is positive."
Once the Mill Valley student section arrived, the stands were flooded with midnight blue and silver. There were over 350 Mill Valley fans at the tournament. The chants of "Let's Go Jaguars" and "Hey, Hey What do you Say" filled the Expo Center, and from then on, the Lady Jaguars were even more fired up.
The Jaguars then played Bishop Carroll, beating the Golden Eagles in two games, 25-21 and 25-20, for its first win in the 5A state volleyball tournament (click here for a photo gallery from the match).
Billings says that her and the team played better against Bishop Carroll.
"We played steady. It was not one of our best, but definitely better than our first match. We kept level heads and pushed through for the win." Billings said.
The day concluded with a loss against St. James in two sets, 25-21 and 25-17 (click here for a photo gallery from the match).
Despite the loss, Billings believes that the team played some of its best volleyball of the season.
"We went into the match with an attitude of having nothing to lose. We loosed up which helped us play some of the best volleyball I have seen out of our team this season." Billings said. "We played well and went out with a bang. We gave St. James a run for their money, and I'm very proud of how we went out."
This was the Jaguars second consecutive year in the 5A state volleyball tournament. Last year, the Jaguars left with three losses and no wins. Billings explains what it was like to be more successful this season.
"Last year, we came in as the "newbies" and major underdogs. This year we had previous experience which helped. We would have liked to make it to Saturday, but getting to state again was pretty awesome.
The Jaguars were sub state champions and won the Kaw Valley League title.
"Overall, we had a very successful season. We worked through the tough times, practiced hard, and ended very well," Billings said. "I am so proud of my team and how we performed and executed."
(Visited 15 times, 1 visits today)
About the Writer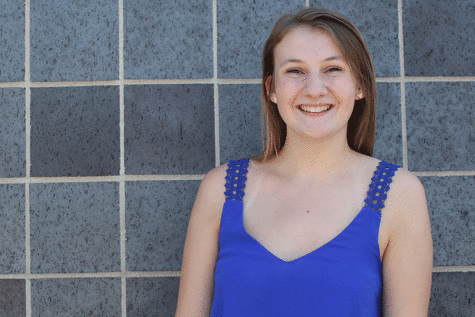 Tori Aerni, JagWire editor-in-chief
This is senior Tori Aerni's third year on the JagWire staff and her second year as an editor-in-chief. She looks forward to spending another year with the JagWire staff and putting out eight eye-catching issues of the paper. Aerni is also involved in NHS, SLT, Student Ambassadors and her church's youth group outside of the JagWire. She's a fan of concerts, the Kansas City Royals, chocolate milk and God. Her favorite artists include Taylor Swift,...