Volleyball falls to De Soto in three sets at Dig Pink game
The Jaguars were never able to maintain the lead long enough to win in their final regular season game
After inconsistent play, volleyball fell to De Soto High School in three sets at the annual Dig Pink game on Thursday, Oct. 21.
After dropping the first set 25-19, the Jaguars fought back, taking the second set 25-23. However, DHS outlasted the team in the end, 25-20.
Even though it was a close game throughout, the Jaguars weren't able to maintain the lead, which was a deciding factor in the end result according to senior Emma Mantel.
"We didn't start our strongest," Mantel said. "Yes, we definitely improved throughout the night but it wasn't the best we could have played. We actually do better when it's tight back-and-forth because it forces us to play our best and work the hardest that we can."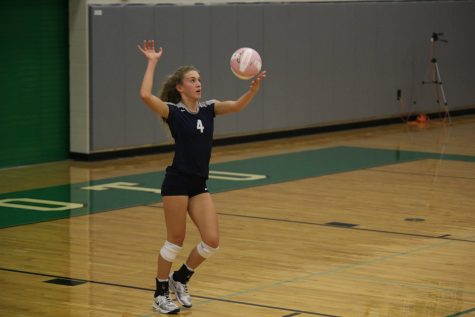 In addition, DHS was more emotionally invested in the game, according to senior Maggie Bogart.
"When we were up ahead we just couldn't finish the game and I think that's what kills us the most," Bogart said. "Volleyball is such a game of momentum. If you're going back-and-forth it's really anyone's game. It's all about who makes the least errors in the end and who wants it the most."
The momentum never was enough on the Jaguars' side during the game, but Mantel has seen improvements throughout the season to help the team as a whole.
"We've definitely improved, more so than [any] other season," Mantel said. "We've gotten better at all aspects: teamwork, leadership, ball skills, everything."
Now that the regular season has concluded, Bogart looks forward to the challenge of postseason play.
"Going into the postseason, we're expecting a tough fight. It's our last go for all and we want to make it the best season we can at this point. We play Sumner and Aquinas, and I wholeheartedly think that if we put everything we have into it we can beat both of those teams."
The team will next play Sumner Academy at substate on Saturday, Oct. 22.
(Visited 34 times, 1 visits today)